French press looks at Korea's green growth
Jul 04, 2012
The Paris-based French daily
Libération
spotlighted Korea's green growth policies on June 24 as part of a series on the future of the environment.
The article by Seoul correspondent Eva John introduced Korea's efforts to diversify its energy resources and develop its eco-friendly industries in order to become one of the top four exporters of environmentally friendly goods and technologies by 2015.
With this goal in mind, the Korean government has been investing 2% of the national GDP into the green industry since 2009, extending benefits such as tax cuts and special loans to related businesses. These policies will continue until 2013.
The Korean government has also helped to jumpstart the development of the domestic
electric car industry
, providing 45 million euros (KRW 64.2 billion) of funding to companies within the industry and investing 7 billion euros (KRW 10 billion) toward the installation of a 2.5GW wind-power facilities on Korea's southwestern coast.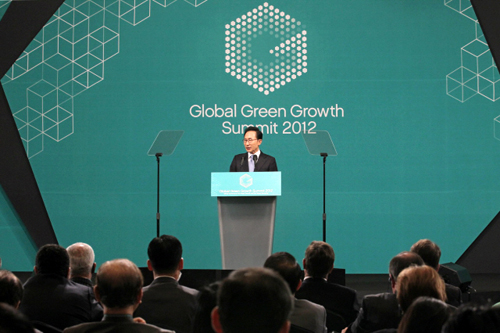 President Lee Myung-bak delivers a speech at the Global Green Growth Summit in May 2012 (photo courtesy of Cheong Wa Dae).
The article went on to quote Yang Soo-gil, chairperson of the
Presidential Committee on Green Growth
, who explained the government-backed initiative to test a
smart grid
electricity-delivery system on Jeju Island, with the participation of large companies as well as medium and small-sized businesses.
With regards to this strategy of partnership across the board, the article described it as "a very well formulated method," the effectiveness of which was compared to similar strategies pursued during the years after the Korean War that enabled rebuilding of the country within a short period of time. The same strategies helped Korean automobile and electronics companies catch up to competitors in Japan, the United States, and other already developed countries, added the article.
In a separate article, also published in
Libération
on June 24, John interviewed President Yoon Seung-joon of the
Korea Environmental Industry and Technology Institute (KEITI)
.
"Korea's green growth know-how is being applied in emerging markets in Africa, Asia, and Central and South America," said Yoon, who expressed confidence that Korea can provide an ideal model for developing countries.

KEITI completed construction of a water treatment system in Ghana earlier this year (photos: KEITI).
The article introduced the scope of KEITI's activities since the institute's establishment in 2009, including the construction of water supply facilities in Azerbaijan, Ghana, and Nigeria, as well as waterway restoration in Indonesia. KEITI is currently overseeing projects in twelve countries, reported the article.
"We have invested one billion euros over the past ten years in developing solutions to meet the environmental needs of individual countries," continued Yoon. "As Korea has experience addressing its own environmental issues since the rapid industrialization of the 1960s, we can provide developing countries with the technologies and facilities best suited for their needs."
By Kwon Jungyun
Korea.net Staff Writer
Featured Topics
http://www.korea.net/NewsFocus/Policies/view?articleId=101093
URL Copy
Department Global Communication and Contents Division , Contact Us