Yeosu seeks smarter future through blue economy
Jul 12, 2012
The world's first International Exposition to ever take place offshore offers not just a chance to indulge in the breathtaking maritime scenery, but also an opportunity to discuss an action plan for sustainable use of the "Living Ocean and Coast" aimed at greener growth.
Committed to opening up a brighter future for the sea and humankind, the Expo 2012 Yeosu Korea-
OECD
International Symposium addressed the "
Future of the Ocean Economy
" alongside the theme of green growth throughout its two-day run from July 9 to 10.
During the opening remarks, Chairman Kang Dong-suk of the
Expo Organizing Committee
stressed that Yeosu's academic partnership with the OECD has aroused interest in the ocean and a "blue economy." After giving a brief introduction of the ongoing event, Kang called upon continued support for the Yeosu Expo, which is set to wrap up in one month.
The two-day forum was flourished with insights and analyses of a blueprint for the future marine environment, attended by global entrepreneurs, inquisitive researchers, and other professionals from across the world.
The symposium also brought a dialogue shedding light on Korea's
green growth
policies and its applications in a blue economy. Guest speakers including Deputy Secretary-General
Yves Leterme
of the OECD and Chairman Young Soogil of the
Presidential Committee on Green Growth
provided insights into the marine economy. At the Global Ocean Leaders forum, participants discussed the blue economy as a new paradigm for sustainable growth amid intensifying climate change and resource depletion.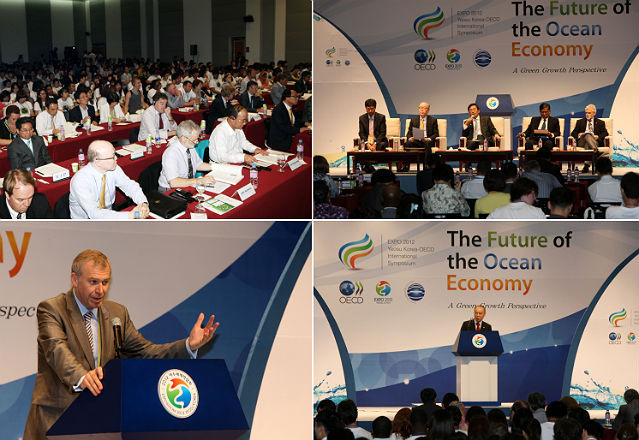 The agenda of the second day was composed of sessions covering an array of specific and narrowed-down topics: from the future of the traditional marine economy, such as shipping, ports, aquaculture, and the cruise industry, to the future of a new marine economy including marine biotechnology, the oceanic plant industry, ocean energy, and the development of future marine resources.
"The international symposium offered experts dedicated to the cause a golden opportunity to present guidelines and vision for a smarter future of the marine economy to experts dedicated to the cause by providing a venue for in-depth discussion of green growth and the future of the marine economy," remarked Director Cho Jeong-hui, Director of the Academic Events Department of the Organizing Committee.
By Hwang Dana
Korea.net Staff Writer
Featured Topics
http://www.korea.net/NewsFocus/Policies/view?articleId=101216
URL Copy
Department Global Communication and Contents Division, Contact Us