Korean e-government goes global
Sep 07, 2012
Korea's e-government system, also known as digital government, has started to gain international attention.
E-government
makes the best use of IT, ICT, and other web-based telecommunications technology to boost the effective communication between government and individual citizens, other government organizations, and private businesses. Digital interaction also facilitates work procedures, and enables complaints and inquiries that require the attention of two or more government organizations to be filed and resolved in a one-stop process.
A growing number of countries use the Korean e-government system as a new benchmark. This July, Botswana's Minister Nonofo E. Molefhi of Transport, Information Technology and Communications accompanied by an e-government team paid a visit to Korea to take a closer look at the Korean system. Following Botswana's interest, a Korean e-government team has provided on-site overseas marketing in some Eastern European and CIS nations.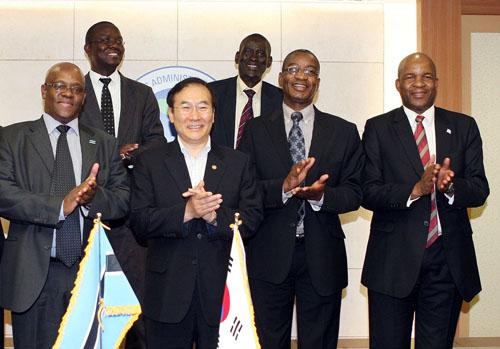 The Botswana team paid special attention to the Korean National Computing and Information Agency and Intelligent Transport System in July and signed a Memorandum of Understanding on cooperation in the field of information technology. The Botswana representatives expressed hope that they could share Korea's technology and know-how to reach their aim of establishing an electronic government system by the end of 2016.
In the middle of August, Seo Pil-eon, the vice minister of the
Ministry of Public Administration and Security
(MOPAS) visited Moldova, Rumania, and Azerbaijan during his four-day trip to discuss ways to cooperate in enhancing the use of digital interaction systems.
In Moldova, the opening ceremony of the Information Access Center gathered a throng of people including Prime Minister Vladimir Filat and local media outlets. "Moldova gives priority to IT at the moment," said Filat. "We have a lot to learn from Korea, which took the first place in the field of e-government with its advanced IT."
On the other hand, Mongolia has used Korea's National Computing and Information Agency as a model from the initial stage of establishment to operation and management since 2009.
By Lee Seung-ah
Korea.net Staff Writer
Featured Topics
http://www.korea.net/NewsFocus/Policies/view?articleId=102274
URL Copy
Department Global Communication and Contents Division, Contact Us