President Lee's talks with Hilary Clinton at the APEC summit
Sep 10, 2012
On the sidelines of the APEC forum, President Lee met with U.S. Secretary of State Hilary Clinton, where they saw eye-to-eye on the need for cooperation among Korea, the U.S., and Japan to resolve the North Korean nuclear issue. The two sides promised to continue to work closely together to urge the new North Korean leadership to give up its nuclear ambitions and carry out real economic reforms.
"As the foundation of the bilateral relationship is sturdy, our cooperative ties will be strengthened in the future," Lee was quoted by his spokesperson as saying during the talks.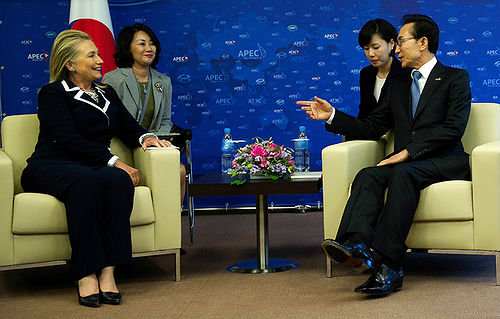 "Amid the world's difficult economic conditions, I hope that Iran issues will be resolved as soon as possible. The resolution of Iran's nuclear issue is important for the resolution of the North Korean nuclear issue."
The top U.S. diplomat said that Washington carefully watches Pyongyang's nuclear issue and its people's livelihoods, stressing that both denuclearization and reform are crucial, according to Lee's aides.
Clinton also underscored China's role in handling Pyongyang.
Describing the relationship between the two nations as being in a 'Golden Age,' Clinton stressed that the strengthened Korea-U.S. alliance would be a big part of President Lee's legacy, and she vowed to further develop their strategic alliance.
By An Myungok
Korea.net Staff Writer
Featured Topics
http://www.korea.net/NewsFocus/Policies/view?articleId=102349
URL Copy
Department Global Communication and Contents Division, Contact Us