President Lee Myung-bak tours glaciers and fjords to witness global warming
Sep 11, 2012
On September 9 President Lee Myung-bak toured glaciers and fjords located in Ilulissat, Greenland, to see the effects of global warming.
After personally witnessing the rapid effects of global warming in Greenland, Lee said, "Glaciers melted so much that it is hard to believe this place is the Arctic. An active response to climate change and close cooperation within the international community are more necessary than any time."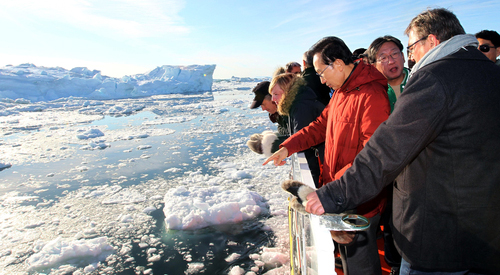 Lee reiterated the importance of cooperation in green growth and intends to listen to people from places like Greenland which are vulnerable to global warming in making policies and climate change-related negotiations in the future.
Danish Crown Prince Frederik and Premier Kuupik Kleist of Greenland also joined the tour.
The famous ice fjord in Ilulissat, which was registered a UNESCO World Heritage site in 2004, was formed by inland glaciers flowing out to sea. It is thus easily accessible and provides a good environment where Arctic glaciers can be viewed. In particular, it is possible to directly watch the thawing of the Arctic ice due to the recent global warming, so many visitors from around the world are there to witness the magnitude of the climate change.
Featured Topics
http://www.korea.net/NewsFocus/Policies/view?articleId=102370
URL Copy
Department Global Communication and Contents Division, Contact Us