Summit meeting between Korea and Norway
Sep 13, 2012
President Lee Myung-bak, currently on a state visit to Norway, had a
summit meeting
with Norwegian Prime Minister Jens Stoltenberg on September 12 to discuss measures for consolidating bilateral relations and expanding substantive cooperation between the two nations.
During the summit, the two national leaders agreed to maintain their traditional diplomatic and economic relations while fostering a future-oriented relationship to address the newly-emerging challenges of the 21st century in areas of the environment such as climate change and issues of eco-friendly development and preservation of the Arctic. The two states also promised enhanced technological and complementary cooperation on such key sectors as shipbuilding and marine engineering. The two leaders also expanded the scope of cooperation further to include the fields of resource development, in particular oil-search cooperation and joint stockpiles.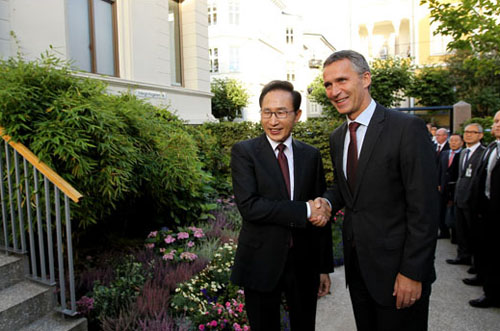 Also, the two leaders agreed to make concerted efforts for sustainable development and preservation of bio-diversity and the ecosystem of the Arctic and the Arctic Ocean. In addition, the two nations pledged to work together to improve their scientific collaborations, particularly on the operation of the
Araon
and
Korea Arctic Research Station Dasan
. The two sides also shared opinions on technological cooperation in new regeneration energy.
On the other hand, Norway expressed their utmost support for Korea's consistent efforts in preserving peace and security on the Korean Peninsula. Talking about topics of nuclear weapons, economic stability, and human rights in North Korea, the two sides promised to form closer ties in the international community.
On the day after the bilateral summit, a MOU was signed between the two nations to improve bilateral cooperation at the government level on marine transportation and engineering, in attendance of the two national leaders. The two heads of states assessed that the MOU would contribute to strengthening collaboration between the two sides.
By Lee Seung-ah
Korea.net Staff Writer
Featured Topics
http://www.korea.net/NewsFocus/Policies/view?articleId=102533
URL Copy
Department Global Communication and Contents Division, Contact Us