Exploring Dokdo from Seoul
Sep 27, 2012
While Korea's easternmost island of
Dokdo
, together with nearby
Ulleungdo
, has become an increasingly popular coastal travel destination, those curious to see the island in person can now get a preview in the heart of Seoul.
Dokdo Museum Seoul, which opened on September 15 in Seodaemun District, invites visitors to experience the striking scenery as well as the rich natural history of the iconic island.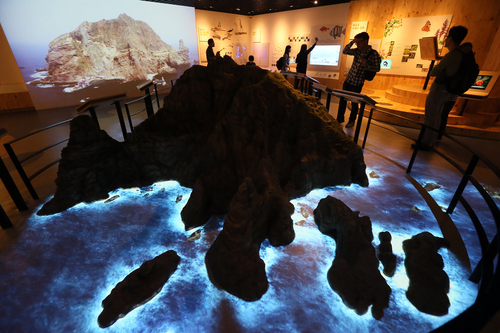 "Dokdo Museum Seoul gives visitors the opportunity to learn about and experience Dokdo firsthand," said Minister Lee Ju-ho of
Education, Science and Technology
at the museum's opening ceremony. "Its opening is a meaningful accomplishment."
Established by the
Northeast Asian History Foundation
, the museum houses various exhibits that introduce the 1,500-year history of the island in addition to its flora and fauna.
A 4D theatre also gives visitors a virtual underwater tour of the waters that surround Dokdo in the
East Sea
.
Visitors can tour Dokdo Museum Seoul free of charge from 9 a.m. to 6 p.m. Pre-visit reservations are required to visit before 3 p.m. and can be made on the
museum website
. The museum is closed on Mondays.
More information on the island and its history can be found in the Dokdo & East Sea menu of Korea.net:
http://www.korea.net/Government/Current-Affairs/National-Affairs?affairId=83
.
By Kwon Jungyun
Korea.net Staff Writer
Featured Topics
http://www.korea.net/NewsFocus/Policies/view?articleId=102818
URL Copy
Department Global Communication and Contents Division, Contact Us