UN Green Climate Fund to be based in Korea
Oct 22, 2012
To everyone's surprise, Korea was chosen as home to a new United Nations fund to manage billions of dollars to help developing nations fight climate change. The
Green Climate Fund
(GCF) will be based in the newly developed Songdo International Business District in Incheon next year.
This is a feat for Korea, as it beat out Bonn, Germany, in a coming-from-behind victory in a final vote of the fund's 24-member board at the end of a three-day GCF meeting in Incheon on Friday, October 19.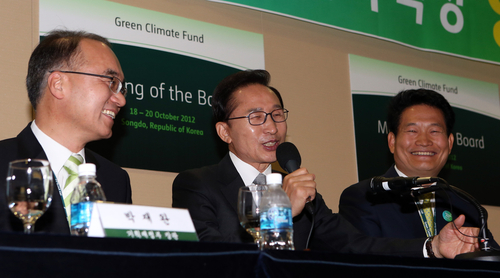 Korea has had a series of great achievements recently, as the country was also selected as a nonpermanent member of the UN Security Council in a vote at the UN Headquarters in New York on October 18.
Korea has become a leading nation in climate change and global warming initiatives, as the
Global Green Growth Institute
(GGGI), once a non-profit foundation founded by the Lee Myung-bak administration to seek sustainable development, is becoming an international organization on October 23 in accordance with an agreement among its major partner governments made earlier this year.
Unlike other regional offices of international organizations in Korea, the GCF secretariat will be a full-fledged international organization. It is the first time not only for Korea but also for Asia to host a large global environmental agency, as the majority of environment-related organizations are based in Europe.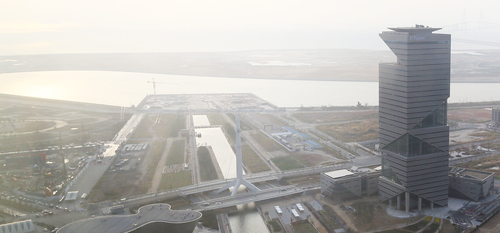 The GCF is a UN fund launched at the end of 2010 to channel money from developed nations to developing countries, helping them cope with global warming, curb greenhouse gas emissions, and other challenges such as floods, droughts, and heat waves. It is often compared to the World Bank of green growth, as its financial aid will grow up to USD 100 billion a year by 2020 to help poor and vulnerable countries. Korea had been competing with five other nations to host the fund -- Germany Switzerland, Mexico, Namibia, and Poland. Korea narrowly won over Germany in a largely unpredictable vote.
"Ten days before voting, five countries that had supported Germany turned to Korea," said Chief Secretary Kim Sang-hyup of
Cheong Wa Dae
, in an interview. "The United States, one of the most influential board members, came to support Korea at a critical stage." China, Japan, Mexico, and many South American and African countries including South Africa reportedly voted for Korea.
According to the
Korea Development Institute
, hosting the GCF secretariat would have an economic effect worth KRW 380 billion a year.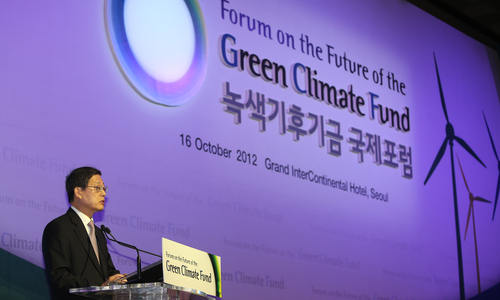 This is also good news for the
Incheon Free Economic Zone
(IFEZ) where Songdo is located, as the GCF secretariat will move into the futuristic I-Tower next year, which is expected to house many international organizations.
Some 500 employees will be working for the GCF and there are expected to be over 100 international conferences. It will also create as many new jobs in IFEZ, which has struggled to attract foreign investment and businesses. "It is like hosting a large multinational company," said
Minister of Strategy and Finance
Bahk Jae-wan.
By Limb Jae-un
Korea.net Staff Writer
Featured Topics
http://www.korea.net/NewsFocus/Policies/view?articleId=103244
URL Copy
Department Global Communication and Contents Division, Contact Us