No-visa entry for transit passengers at Incheon Airport
Nov 02, 2012
Travelers transferring at Incheon International Airport will now be able to explore Korea outside the airport during layovers.
The no-entry visa program was introduced by the Ministry of Culture, Sports and Tourism (MCST), the Ministry of Land, Transport and Maritime Affairs (MLTM), and the Ministry of Justice (MOJ) on October 23. The program, which will begin on a trial basis on October 29, allows non-Korean nationals transferring at Incheon Airport to a third country or Jeju Island within twelve hours of arrival.
Related institutions including the Korea Tourism Organization (KTO) and Incheon International Airport Corporation (IIAC) are also participating in the program in order to boost the domestic economy through improving layovers for transit tourists.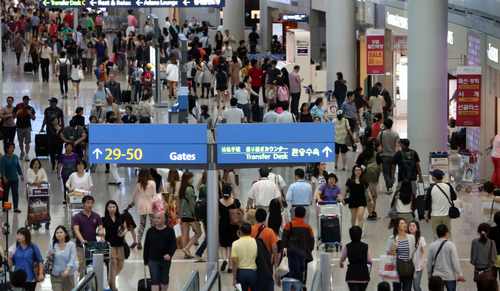 With the program, those who transfer at Incheon Airport to a third country or a domestic flight to Jeju Island, especially Chinese tour groups, will not need to be issued a visa. Foreign nationals transferring at Incheon Airport to a third country are able to enter Korea without a visa if they participate in one of the transit tourist programs permitted and operated by MCST or IIAC. Chinese tour groups heading to Jeju Island will be permitted to enter the country without a visa within twelve hours of arrival under the condition that they will go sightseeing in the Seoul metropolitan area. They will get an official entry permit once arriving on Jeju Island.
The MOJ will assign assistants to the transit tour programs so that transit tourists can enjoy their stay within the scheduled time conveniently and safely. Leading guided tours, the assistants will also help transit tourists with passport controls and prevent them from slipping away.
MCST has selected nine travel agencies as participant companies for a trial operation of the program. It will provide pay for the assistants during the trial operation period, and encourage overseas travel agencies to participate in the program, and other promotional events.
However, the ministry may withdraw support from the participant companies if they cause disruptions to the tourism industry by offering extremely low-priced travel packages or forcing tourists to purchase certain products. The three participating government ministries expect that the no-visa entry program will boost the domestic economy, increase transit passengers, and reinforce Incheon Airport as a transit hub of Asia. They will examine whether to continue operating the program based on the outcome of the trial operation.
By Jessica Seoyoung Choi
Korea.net Staff Writer
Department Global Communication and Contents Division, Contact Us