President Lee to discuss cooperation at ASEAN+3 Summit
Nov 19, 2012
President Lee Myung-bak will discuss ways to enhance cooperation with the Association of Southeast Asian Nations (ASEAN) and regional partnerships within East Asia with heads of state attending the
ASEAN+3
Summit in Phnom Penh, Cambodia from November 19 to 20.
President Lee will attend the Korea-ASEAN Summit, the ASEAN+3 Summit, and the East Asia Summit in Phnom Penh before leaving for the Middle East to visit the United Arab Emirates from November 20 to 22.
At the 15th Korea-ASEAN Summit in Phnom Penh, the leaders of participating nations will talk about how to further develop the Korea-ASEAN strategic partnership agreed upon during the 13th Korea-ASEAN Summit in November 2010.
President Lee will go over past progress in the Korea-ASEAN relationship over the last five years including the signing of the Korea-ASEAN Free Trade Agreement, the Korea-ASEAN Summit in Jeju, the establishment of a
Korea-ASEAN Center
in 2009, and the foundation of the strategic partnership in 2010.
President Lee will look into the progress in cooperation with ASEAN+3 in the areas of food security and international finance and will discuss future developments including doubling the Chiang Mai Initiative Multilateralisation intended to strengthen the regional financial safety net, adopting the Asian Bond Markets Initiative for self-reliance in the regional financial market and smoothly implementing the ASEAN+3 Emergency Rice Reserve.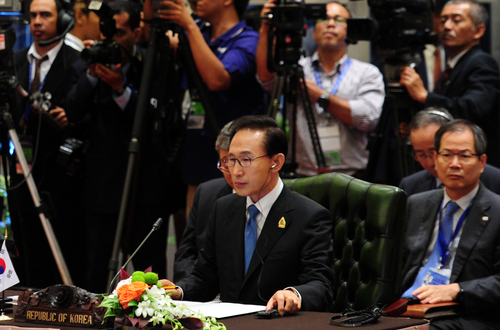 Next, President Lee will attend the seventh East Asian Summit and exchange opinions with his counterparts on improving regional cooperation in East Asia as well as other regional and international issues. They will also discuss the direction of future cooperation including regional economic integration, climate change, catastrophe management, nuclear non-proliferation, and maritime security.
The East Asian leaders are also expected to announce the beginning of official negotiations for the Regional Comprehensive Economic Partnership.
After the ASEAN+3 Summit, President Lee will visit the UAE and have a bilateral summit with Sheikh Khalifa bin Zayed Al Nahyan, the president of the UAE. The two presidents will discuss ways to expand cooperation between the two countries in the fields of nuclear reactor construction, energy, trade, finance, health care, science, and technology.
President Lee is expected to acknowledge the rapid progress in the bilateral relationship since the establishment of the strategic partnership between the two nations in 2009.
President Lee and Abu Dhabi's Crown Prince Sheikh Mohamed bin Zayed Al Nahyan will attend the groundbreaking ceremony for a nuclear power project in Barakah to be constructed by Korean companies.
By Limb Jae-un
Korea.net Staff Writer
Department Global Communication and Contents Division, Contact Us