President Lee visits Cambodia for ASEAN+3
Nov 20, 2012
President Lee Myung-bak
attended the 15th ASEAN+3 Summit in the Cambodian capital of Phnom Penh on November 19. Leaders from the Association of Southeast Asian Nations (ASEAN) as well as Korea, Japan, and China exchanged views on food security, the financial crisis, and economic integration, expressing their will to forge closer ties during the summit.
The national leaders reviewed the progress made since the establishment of the ASEAN+3 Summit in 1997, taking note of its role in expanding cooperation in all spheres, in particular, finance, culture, agriculture, and education. The leaders agreed to work together to address the complicated international and regional challenges they face, making full use of the well-established cooperation mechanism.
The heads of 13 nations shared views that further regional cooperation is in need in the financial sector since the international community has been facing the eurozone crisis. The leaders assessed their efforts taken to double the
Chiang Mai Initiative Multilateralization
(CMIM), which served to protect the region from falling into further recession, and welcomed the adoption of the new
Asian Bond Markets Initiative
(ABMI), a ten-year roadmap for development of a regional bond market.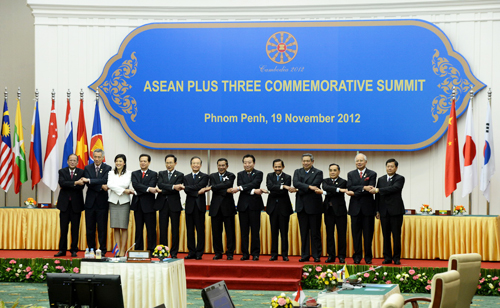 Also, the heads of participating nations expressed their concerns about the recent natural disasters that have frequented the East Asian region, destabilizing the food supply. They agreed to make a concerted effort to enhance food security, reaffirming their strong support in implementing the
ASEAN+3 Emergency Rice Reserve
(APTERR). During the Monday meeting, the Korean president gave a briefing about the efforts of the Korean government towards stabilization of the international price of commodities and stressed the need for mutual assistance and joint research into policies and practices in enhancing food security.
The participating nations welcomed the submission of final reports for the 2nd
East Asian Vision Group
(EAVG II), launched last October, and stated their appreciation for the efforts of those who took part in and showed commitment to producing the reports. They reviewed the reports as a significant step in mapping out their ultimate vision, the creation of an East Asian community.
The summit also adopted the
Leaders' Statement on the ASEAN+3 Partnership on Connectivity
. The leaders reaffirmed the need to improve inter-linkage in terms of institutions as well as people-to-people relations.
By Lee Seung-ah
Korea.net Staff Writer
Featured Topics
http://www.korea.net/NewsFocus/Policies/view?articleId=103816
URL Copy
Department Global Communication and Contents Division, Contact Us