President Lee attends 15th Korea-ASEAN Summit
Nov 21, 2012
President Lee Myung-bak attended the 15th Korea-ASEAN (Association of Southeast Asia Nations) Summit held at the Peace Palace in Phnom Penh, Cambodia on November 19. Also joined by the leaders of the ten member states of ASEAN, he reviewed the status of cooperation between Korea and ASEAN countries and exchanged thoughts on the direction for future cooperation.
President Lee and the ten leaders evaluated their outstanding accomplishments from the last five years including the completion of the Korea-ASEAN Free Trade Agreement (FTA), establishment of the Korea-ASEAN center, and hosting of the Korea-ASEAN commemorative summit in 2009 as well as the establishment of a strategic partnership between Korea and ASEAN in 2010, led by the "New Asia Diplomacy Plan" of the Korean government. In addition, they welcomed the establishment of the Korean Mission to ASEAN in September, promising to strengthen actual corporation between Korea and ASEAN.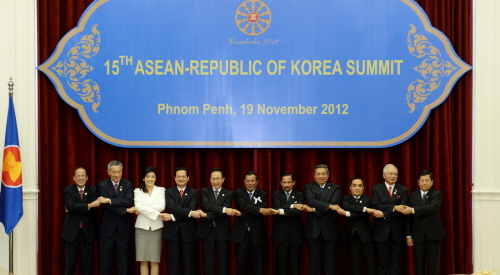 They also stated their approval of the bilateral trade volume between ASEAN and Korea reaching a record high of USD 124.9 billion last year, which has steadily increased since the conclusion of the Korea-ASEAN FTA. Despite global economic hardships, they foresaw that their goal of USD 150 billion in bilateral trade volume would be reached by 2015 and agreed to expand trade through sincere fulfillment of the Korea-ASEAN FTA and improvement of its application.
The ASEAN leaders expressed their gratitude for Korea's contributions to narrowing development disparity among ASEAN countries, one of the key assignments regarding the launch of the ASEAN Economic Community (AEC) in 2015. President Lee confirmed that Korea will expand its development assistance to ASEAN for the common prosperity of Korea and ASEAN, especially reinforcing its support to the Mekong area. He also announced the country's willingness to provide intensive support to improve connectivity among ASEAN countries in sectors such as information and communications technology in which Korea is strong.
They also welcomed the agreement on the ASEAN-Korea Forest Cooperation which took effect this year and agreed to strengthen their cooperation in green growth and climate change countermeasures through the activities of the Global Green Growth Institute (GGGI) and the Green Climate Fund (GCF).
In evaluating the role of the Korea-ASEAN Center that has conducted cooperative projects in various fields such as trade, investment, culture, tourism, and information, they also agreed to actively support the center's programs and activities for the cooperative development of Korea and ASEAN countries.
Featured Topics
http://www.korea.net/NewsFocus/Policies/view?articleId=103829
URL Copy
Department Global Communication and Contents Division, Contact Us