Park Geun-hye becomes Korea's first female president
Dec 19, 2012
Park Geun-hye, daughter of President Park Chung-Hee who laid the foundation for Korea's economic success, was elected the next president on December 19, becoming Korea's first female president as well as the first president whose father was also president.
From the ruling
Saenuri (New Frontier) Party
, Park, 60, won 51.55 percent of the vote, or 15.77 million votes, according to the
National Election Commission
on December 20. She beat Moon Jae-in from the main opposition Democratic United Party, a human rights lawyer and a former chief of staff to President Roh Moo-hyun. Moon received 48.02 percent, or 14.69 million votes.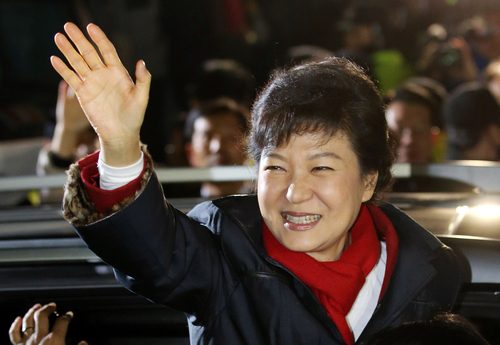 Park's win by a majority vote was the first in Korea in 41 years since her father won by 53.2 percent in the seventh presidential election in 1971 against Kim Dae-jung. Voter turnout this time stood at 75.8 percent, the highest since Kim Dae-jung won the presidential election in 1997 when it recorded 80.7 percent.
After the results came out, Park gave a late-night victory speech in front of her supporters at Gwanghwamun Square in central Seoul, saying, "I believe the people's passion to overcome crisis and revive the economy has brought this victory."
"I made three promises during my campaign," she said. "I will become a president who works to improve the lives of the people, keeps promises and helps bring about great unity in the nation."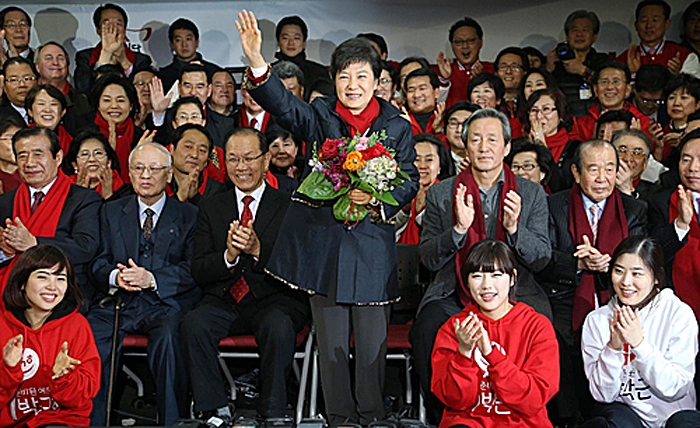 President Lee Myung-bak called Park at 9:40 on the evening of the election to congratulate her on her victory. "I hope that the great choice of Korea will lead to unity of all the people and their happiness," Lee said on the phone.
Moon of the Democratic United Party also congratulated Park on her victory late on election night. "I hope that President-elect Park Geun-hye will lead the country in a way that unites all Koreans and promotes politics of harmonious coexistence," Moon said. "Please, give a lot of support to President-elect Park."
Park will take office in February to begin a single five-year term.
After her mother, Yuk Young-soo, was assassinated in 1974, Park served as First Lady for her father at all major national functions. Since 1979, Park devoted herself to helping the poor and the marginalized through management of the Yukyoung Foundation and Saemaeum Hospital.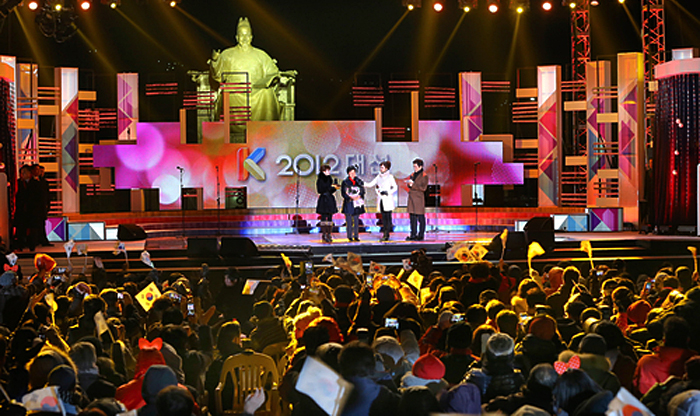 The Asian financial crisis that hit Korea in 1997 proved to be a turning point in Park's career. Fueled by a desire to support the country struggling to regain stabilization, Park decided to enter politics for the first time. In 1998, she ran for the
National Assembly
in Daegu as the candidate of the Grand National Party (GNP), today's Saenuri Party, and was elected.
Park visited Pyongyang in May 2002 to promote inter-Korean reconciliation and cooperation. She met with North Korean National Defense Commission Chairman Kim Jong-il and agreed with him on such issues as a joint inspection of the Mt. Geumgang Dam, the confirmation of the whereabouts of Korean prisoners of war and the establishment of a permanent reunion center for separated families.
Park was the Chairperson of the GNP from March 2004 to June 2006 and was reelected to the National Assembly in April 2012 for her fifth term. Park was also the Chairperson of the Emergency Committee of the Saenuri Party from December 2011 to May 2012.
Park was born in Daegu on February 2, 1952. She graduated from Sogang University in 1974, earning a degree in electronic engineering. Park is fluent in English and has authored four books.
By Limb Jae-un
Korea.net Staff Writer
jun2@korea.kr
Featured Topics
http://www.korea.net/NewsFocus/Policies/view?articleId=104381
URL Copy
Department Global Communication and Contents Division, Contact Us