President-elect Park pledges to support trade, business
Feb 20, 2013
President-elect Park Geun-hye told of her will to help the country expand its trade volume. At a meeting with executive members of the Korea International Trade Association (KITA) in Seoul on February 20, the president-elect said she will do her utmost to solve difficulties in trade so that Korea can reach a trade volume of USD two trillion.
President-elect Park said she is well aware of traders' efforts and their role in building Korea as one of the world's leading trading countries today. Park expressed her thanks to the KITA executives for their endless efforts to make the country the world's seventh largest exporter, with its trade volume reaching USD one trillion.
"The incoming administration will strive to solve difficulties in trade and provide effect support for 70,000 Korean traders," she said, "so that Korea can usher in the era of a trade volume worth USD two trillion."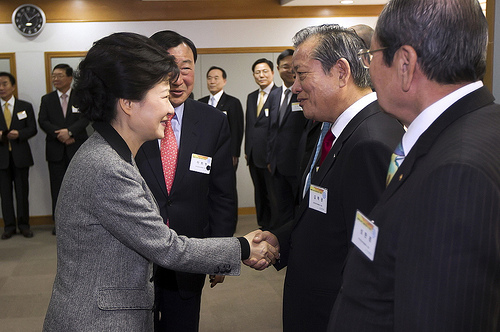 President-elect Park emphasized employment stability at a meeting with members of the Korea Employers Federation (KEF) later that day.
Park urged the KEF business leaders to maintain employment stability and workers to make more efforts, saying "everyone needs to work harder despite economic difficulties."
"The incoming administration will do its best to generate more jobs and create a win-win environment for labor management," said Park. She also called for business leaders to share the burden by mentioning "growth through job stability."
By Yoon Sojung
arete@korea.kr
Featured Topics
http://www.korea.net/NewsFocus/Policies/view?articleId=105811
URL Copy
Department Global Communication and Contents Division, Contact Us