President Park Geun-hye starts summit diplomacy
Feb 27, 2013
President Park Geun-hye
met a number of foreign VIPs including heads of states at
Cheong Wa Dae
following her inauguration ceremony on February 25.
Arriving at Cheong Wa Dae in the afternoon, she received foreign visitors for 30-minute sessions each. Among the powers neighboring the Korean Peninsula, President Park met envoys from Japan, China, and Russia.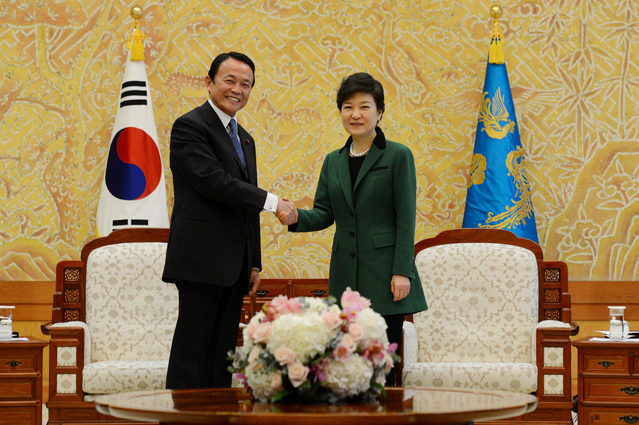 Among them, President Park met Japanese Deputy Prime Minister Taro Aso first. Deputy Prime Minister Aso congratulated Park for becoming Korea's first female president. Park said the two countries should work together for mutually cooperative relationship.
President Park also met Liu Yandong, China's highest-ranking female official, who came as a special envoy. Liu is a member of the Chinese Communist Party's 25-member Politburo and is a state councilor for education, culture, and science affairs.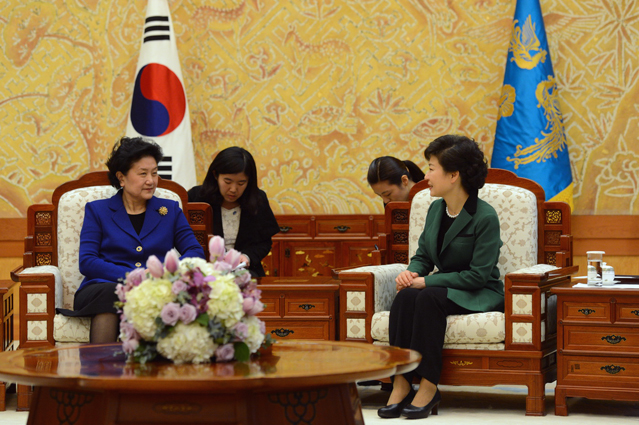 Liu delivered personally handwritten letters from Chinese President Hu Jintao and General Secretary Xi Jinping of the Communist Party of China Central Committee.
President Park also met Minister for Development of Russian Far East Viktor Ishayev. Ishayev delivered personal letters from Russian President Vladimir Putin inviting President Park to a G20 meeting to be held in the country this summer.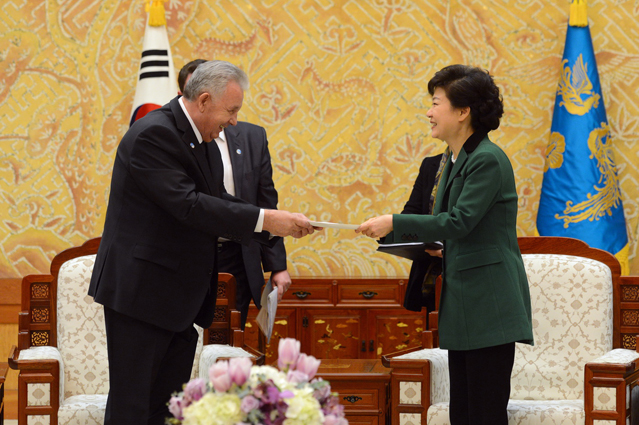 The first VIP Park met after being sworn in as president was Thai Prime Minister Yingluck Shinawatra. President Park said she is going to remember Prime Minister Shinawatra for a long time, since she is "the first foreign VIP she met." Park also thanked the PM for coming to Korea and attending the ceremony despite her busy schedule.
Prime Minister Shinawatra also congratulated Park on "becoming Korea's first female president" and delivered her sincere regards.
Later, President Park met UN Women Executive Director Michelle Bachelet, who is the former president of Chile, and Singapore's former Senior Minister Goh Chok Tong.
By Limb Jae-un
jun2@korea.kr
Featured Topics
http://www.korea.net/NewsFocus/Policies/view?articleId=105896
URL Copy
Department Global Communication and Contents Division, Contact Us