President Park determined to pursue national defense
Mar 13, 2013
President Park Geun-hye
expressed her firm will to advance Korea's national security capabilities.
On March 8 at the joint commission ceremony of military, air force, and naval academies held at Gyeryongdae, the military headquarters in Chungcheongnam-do (South Chungcheong Province), President Park pledged a strong response to North Korea's nuclear threat and provocations, while calling for Pyongyang to change its position.
President Park vowed that she will "strongly respond to North Korea's provocations" and "will make every effort to make the Republic of Korea a country of strong defense, wealth, and power." She stressed the possibility of operating the trust-building process on the Korean Peninsula as it can lead the two Koreas to peace if Pyongyang changes its attitude.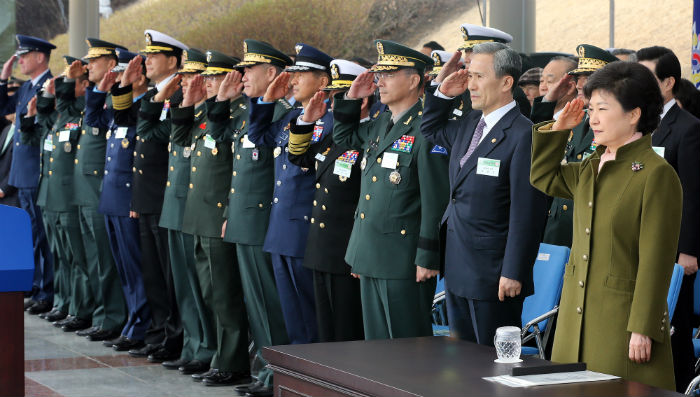 "If the North comes forward to the way of change, however, I will actively operate the trust-building process on the Korean Peninsula in order to build the foundation for both North and South Koreas so that both sides can live peacefully, which will pave the way to reunification," said President Park.

"The freedom and prosperity we enjoy today is backed by tight national defense, including the Korea-U.S. alliance," she added. "The new government will actively boost cooperation with allies and upgrade comprehensive national defense capabilities."

President Park spoke of the challenges and defense crisis South Korea is currently facing, mentioning the North's nuclear and missile tests and threats to nullify the armistice agreement between the two Koreas.

"The future of South Korea lies in how wisely we deal with such challenges and crises," she said, encouraging the graduating military, aviation, and naval cadets at the ceremony. "The duty of protecting the country and the people through strong national defense lies on your shoulders."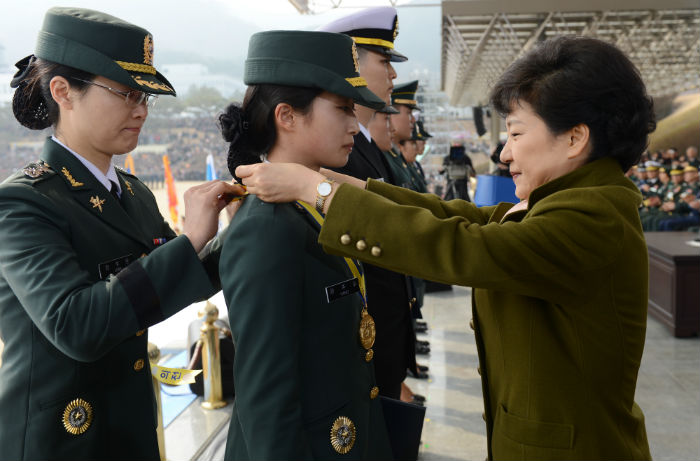 President Park awarded lieutenant's insignia to a total of 5,738 graduating military cadets at the ceremony, including 163 female officers.

"The Korean military has been playing the role of locomotive in leading the development of Korea since its founding," said President Park, expressing her "big pride in the role of the South Korean military which has been protecting the country in historic moments." She also promised that she will "make every effort to boost the military morale and improve the welfare of the soldiers" and "actively support the advancement of the overall environment and culture of military life so that soldiers can fulfill their military service in a more rewarding way."

The ceremony participants included two overseas cadets -- Vu Dinh Thuc from Vietnam who graduated from the Korea Naval Academy and Thawatchai Thonsangkaew, the first Thai to graduate from the Korea Air Force Academy.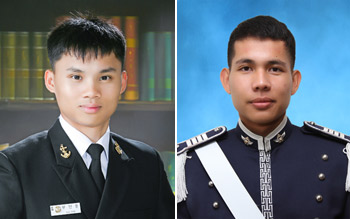 Each of the academies said the two overseas cadets have successfully fulfilled their four-year training despite cultural differences and the language barrier, while receiving recognition for their overall performances in studies and other activities.

Vu Dinh Thuc has successfully finished the training course, achieved the first grade "dan" in taekwondo, and actively worked as a member of the taekwondo group while serving as a facility management cadet of the second battalion, according to the Korea Naval Academy.

Thawatchai Thonsangkaew, the first Thai to graduate from the Korea Air Force Academy, even received a prize for overall performance, including academic results and physical training, upon graduation in February this year. He was ranked ninth out of more than 150 graduating cadets of the academy, and was one of 17 awarded by the academy for outstanding performance score.

By Yoon Sojung
arete@korea.kr
Department Global Communication and Contents Division, Contact Us