President Park says nuclear North Korea 'unacceptable'
Mar 27, 2013
President Park Geun-hye expressed her firm disapproval of North Korea's possession of nuclear weapons while hinting at the possibility to open a channel for dialogue,
Cheong Wa Dae
said on March 25.
President Park stressed the symbolic role of the strong alliance between Seoul and Washington, mentioning that this year marks its 60th anniversary, during a meeting with former U.S. Secretary of State Colin Powell at Cheong Wa Dae, according to presidential spokeswoman Kim Haing.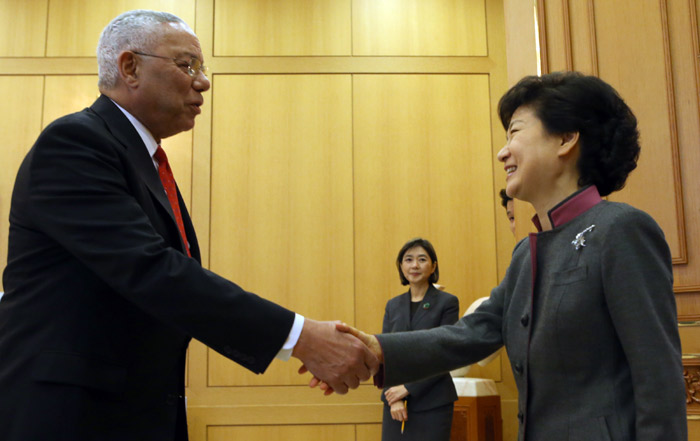 President Park said the Korea-U.S. alliance has played a key role in pursuing peace and prosperity on the Korean Peninsula and the two countries need to upgrade the alliance in the future, according to the presidential spokeswoman.
Former U.S. Secretary of State Colin Powell said in response that he has a deep respect for Korea and the Korean people as a U.S. army veteran and former secretary of state and will do his best to advance the Korea-U.S. alliance, the presidential spokeswoman quoted him.
"North Korea's nuclear program is intolerable and we will respond firmly to its provocations," President Park was quoted as saying, "but if Pyongyang comes towards the right decision, we will work toward building trust on the Korean Peninsula."
The president was quoted saying that South Korea will respond to any provocations made by the North with the backing of the international community.
"I believe the strongest deterrent comes when the international community, backed by the Seoul-Washington alliance, delivers a resolved message with one voice," said the president.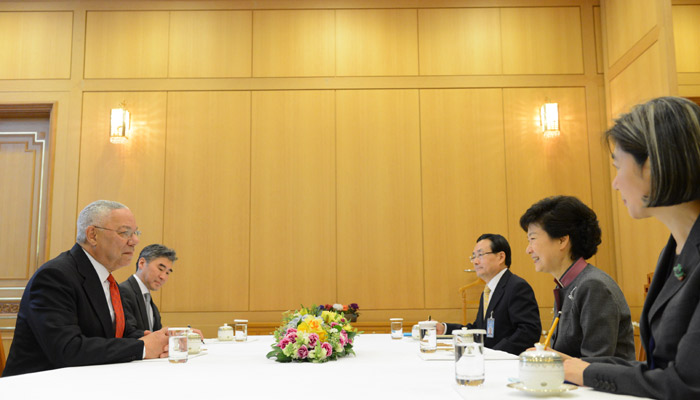 Powell praised President Park's vision of the Korean Peninsula trust-building process and expressed his support for her idea of promoting peace and cooperation in Northeast Asia. Powell was quoted as saying that he hopes Pyongyang will come forward for dialogue and cooperation and stop making provocations and threats for the sake of the happiness of its people.
By Yoon Sojung
arete@korea.kr
Department Global Communication and Contents Division, Contact Us