President asks for U.S. Congress support in nuclear pact revision
Apr 02, 2013
President Park Geun-hye called for the U.S. Congress to support revisions of the ROK-U.S. atomic energy agreement in order for Seoul to expand its peaceful use of atomic energy, Cheong Wa Dae reported on March 29.
President Park held a meeting at Cheong Wa Dae with Senator Bob Corker, ranking member of the U.S. Senate Committee on Foreign Relations Committee, where she discussed issues of common interest in regard to Seoul-Washington relations, the Korean Peninsula, and Northeast Asia, said presidential spokeswoman Kim Haing.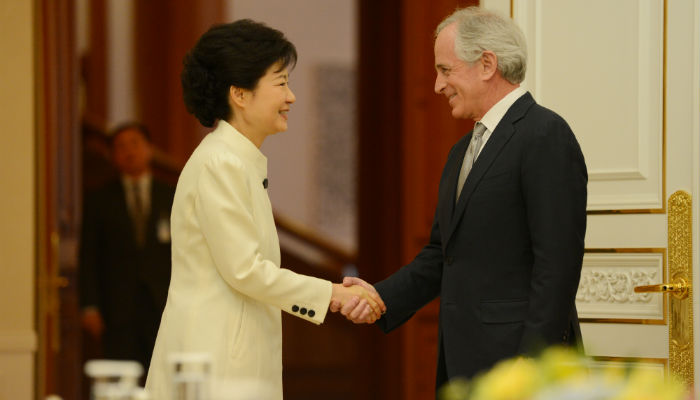 Mentioning the Korea-U.S. alliance which marks its 60th anniversary this year, President Park said that the alliance has contributed to the peace, prosperity, and development of Korea and expressed her hope that it can progress further in the future.
President Park was quoted as saying, "Seoul will maintain a firm deterrence backed by the Korea-U.S. alliance to counter provocations from Pyongyang, but if Pyongyang comes towards the right decision, we will work toward building trust on the Korean Peninsula."
President Park hopes revisions to the agreement can be made so that Korea can expand its peaceful use of atomic energy.
In response, Senator Corker said that he is aware of the importance of atomic energy in Korea and he is expecting a "mutually beneficial result."
The 1974 nuclear pact was initially signed on the civil use of atomic energy in 1972 between South Korea and the United States, and then later revised in 1974. It will expire March next year.
Earlier this February, then-President-elect Park first brought up the topic at a meeting with Congressman Ed Royce, Chair of the House Committee on Foreign Affairs, who led an American delegation to meet her.
By Yoon Sojung
arete@korea.kr
Department Global Communication and Contents Division, Contact Us