President Park holds telephone conversation with Australian PM
Apr 08, 2013
President Park Geun-hye and Australian Prime Minister Julia Gillard discussed issues of the Korean Peninsula and ways to extend cooperation between Seoul and Canberra over the phone.
During the conversation which was held on April 4 by request of the Australian leader, Prime Minister Gillard expressed Australia's wholehearted support for South Korea's effort to respond to threats by North Korea, said
Cheong Wa Dae
spokeswoman Kim Haing.
President Park thanked the Australian government for its support in issuing its foreign minister's statement to urge the international community to firmly respond to Pyongyang's provocative rhetoric and its effort for peace on the Korean Peninsula.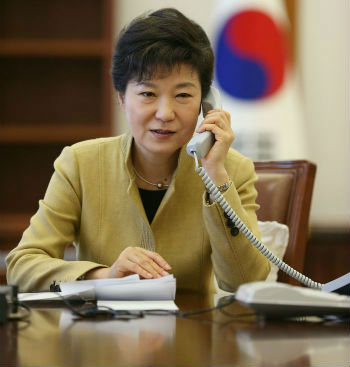 "North Korea is escalating threats not only to Korea but also to the international community," said President Park. "[We] need to urge Pyongyang to stop making further provocations and give up its nuclear ambition as it threatens the peace and stability of the world," said the president.
Prime Minister Gillard spoke of Australia's support for President Park's strong yet flexible response to North Korea, saying that the country will engage South Korea in a trust-building dialogue which President Park has offered.
In regard to a contribution recently written by the Australian leader to a Korean daily where she named South Korea "as one of its most important partner countries in Asia," President Park said, "Korea also considers Australia a very trustworthy partner and is expecting to extend bilateral cooperation in the future."
"As Korea and Australia have been serving as non-permanent members on the Security Council for a two-year term beginning in 2013, I hope the two countries can closely cooperate in the international community in the future," said President Park.
By Yoon Sojung
arete@korea.kr
Department Global Communication and Contents Division, Contact Us