President vows to create safer business environment
Apr 15, 2013
President Park Geun-hye said on April 11 the Korean government will create a more stable, business-friendly environment for foreign investors and businesspeople.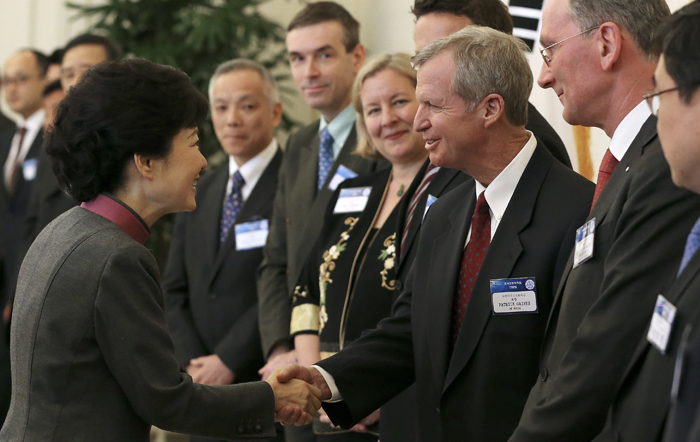 "Koreans have displayed their ability to overcome a number of similar crises in the past and created the 'miracle of the Han River,'" said President Park. "I can assure you that we will create a safer and more stable environment to help you invest and operate businesses."
In regard to the economic policies of her administration, President Park said, "The government will create a new market and generate more jobs through realizing the creative economy."
"We will reform laws, systems, and regulations so that anyone who has creative ideas can make new products and develop new services," said the president. "I hope foreign companies can extend investments in research and development and enhance cooperation with Korean firms to join the government's efforts to realize a creative economy."
Chairman of the American Chamber of Commerce (AMCHAM) Pat Gaines said in response that foreign business leaders highly value "the government's willingness to open communication between foreign business and the government."
The AMCHAM chief said that foreign companies have made investments for decades in Korea and created hundreds of thousands jobs and voiced his appreciation for the Korean government's will to build an open communication channel with foreign businesses.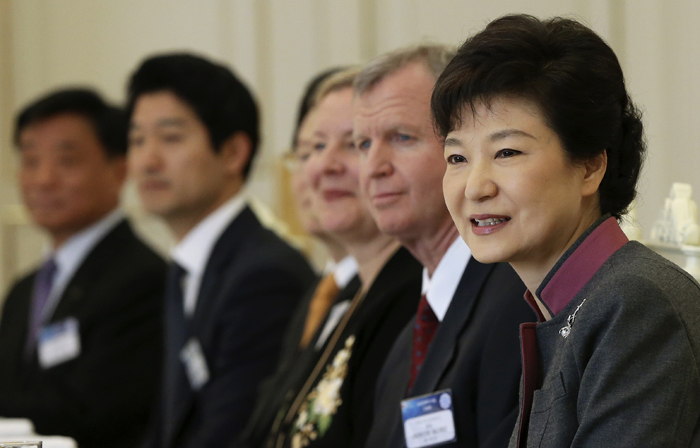 In regard to the government's market-opening policy, President Park said, "The government will continue to carry out its opening policy, implement the existing free trade agreements (FTA), and make efforts to reach win-win agreements in ongoing free trade negotiations."
"The government will create a better environment for foreign businesses and investors," said President Park, mentioning the Korean government's efforts to advance the investment environment which helped the country advance in the "Ease of Doing Business" rank by the World Bank.
The meeting was attended by leaders of chambers of commerce from seven countries, including AMCHAM head Pat Gaines, representatives from leading businesses including eBay, Google, Citibank, BASF and Siemens, and Minister of Trade, Industry and Energy Yoon Sang-jick.
Meanwhile, despite the security threats on the Korean Peninsula, foreign investors' investment in Korea has increased. According to a report released by the Ministry of Trade, Industry and Energy (MOTIE) on April 11, foreign direct investment to Korea in the first quarter of 2013 recorded USD 3.39 billion, showing more than a 44 percent rise than that of the same time the previous year. The ministry said the increase is backed by strong foreign investments from last year.
By country, the United States made the most investments, worth USD 1.7 billion, showing a 299 percent increase over the same time last year, followed by Japan and the European Union at USD 600 million and 440 million, respectively. By sector, the service industry attracted the most investment amounting to USD 2.29 billion, showing a nearly 170 percent increase year-on-year.
By Yoon Sojung
arete@korea.kr
Department Global Communication and Contents Division, Contact Us