Startups in center of creative economy
Apr 15, 2013
Fostering business startup activities is the key to a creative economy, said Deputy Prime
Minister and Minister of Strategy
and Finance Hyun Oh-seok recently, pointing out the goal set by the current administration.
"The core of a creative economy lies in leading economic growth by commercializing new technologies and services and fostering new businesses," Hyun said.
Hyun made the comment in a meeting with the founders of
i-KAIST
, on April 10 during a visit to
Korea Advanced Institute of Science and Technology
(KAIST) in Daejeon where the startup is located.
"Like i-KAIST, startup companies should play a key role in pioneering in the market with new technologies and services and creating new jobs," he said.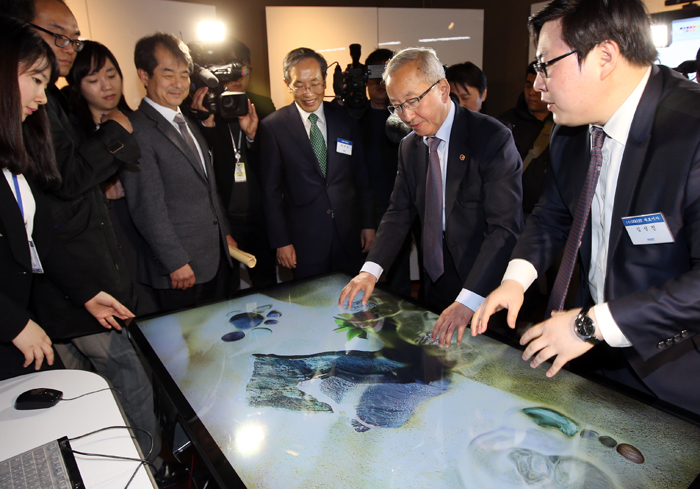 Hyun acknowledged the difficulty for startup companies to take root and become more established in the market and promised that he would come up with policies to foster startup activities.
The company is specialized in developing smart pad-based blackboards, textbooks, education solutions, and equipment. The average age of its employees is only 30.1.
The company tried to fuse information technologies such as a multi-touch display with education in a bid to realize interactive classrooms and education without chalkboards and paper.
The company is 49 percent owned by KAIST and is the first subsidiary of the university research institute. It is a model for successfully commercializing on students' ideas and the university's capital, brand, and technologies.
The company established the "smart school" system at all schools in Sejong City, Chungcheongnam-do (South Chungcheong Province), and 59 schools in other regions in 2012, with plans to set up similar systems at 300 schools this year.
The company also exported the system to seven countries -- the United States, China, Japan, Mongolia, Saudi Arabia, Turkey, and Lithuania. In particular, it signed a USD 30-million deal with Mongolia's Ministry of Education, Culture and Science and a USD 100-million contract with Saudi Arabia.
The success of i-KAIST is seen as a proof that startup activities by young businessmen can lead to a creative economy, and in the end new jobs and exports growth.
By Limb Jae-un
jun2@korea.kr
Department Global Communication and Contents Division, Contact Us