President Park holds meeting with U.S. Secretary
Apr 16, 2013
President Park Geun-hye met with U.S. Secretary of State John Kerry on April 12 at
Cheong Wa Dae
, where they shared a common understanding on the Seoul-Washington alliance and discussed issues related to the Korean Peninsula.
"I hope the alliance can make further progress so that it can contribute to security and co-prosperity for not only the peoples of the two countries but also the all members of the international community," said President Park at the meeting with the secretary of state, according to presidential spokeswoman Kim Haing.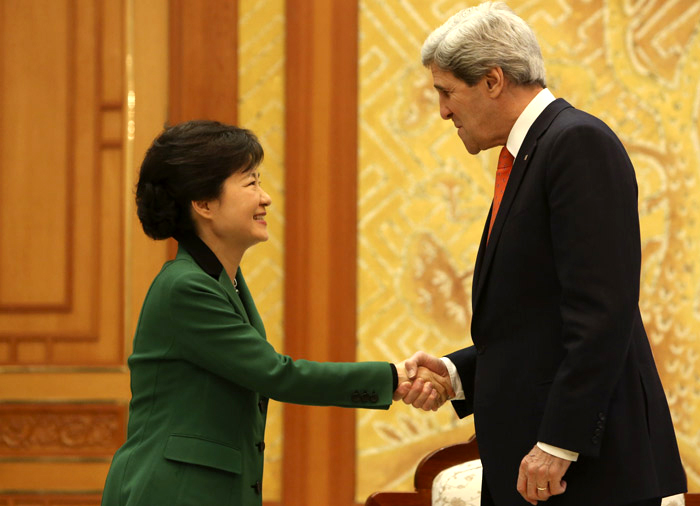 The president also said that the firm South Korea-U.S. alliance which marks its 60th anniversary this year helps maintain stability on the Korean Peninsula, mentioning the growing tension in the region.
"We will respond strongly if Pyongyang makes provocations," said the president in regard to her vision of the Korean Peninsula trust-building process. "But if the North accepts changes and comes forward to dialogue, we can build mutual trust, which will lead us to common development."
In response, Secretary Kerry said that Washington will respond firmly and strongly with Seoul against Pyongyang's threats or provocations. Kerry stressed the close cooperation between the United States and South Korea, expressing his support for Seoul's North Korean policy.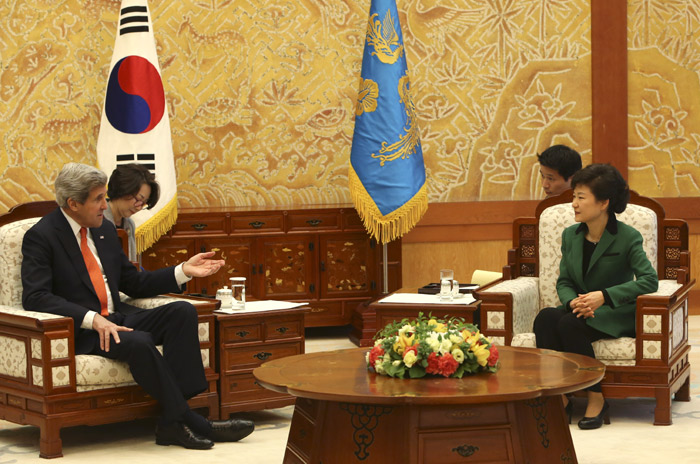 Regarding trade, Kerry said the two countries have made big progress in economy and trade through the Korea-U.S. free trade agreement (KORUS FTA) which marks its first anniversary this year, expressing his hope for extending bilateral trade cooperation.
In regard to the issue of the ROK-U.S. atomic energy agreement, President Park asked Kerry to take a "creative approach" toward the revising of the agreement which will expire next March in a more advanced, mutually beneficial way.
Kerry said in response that the two countries need to make effort to reach a desirable agreement on the issue based on the bilateral trust between the two countries.
By Yoon Sojung
arete@korea.kr
Department Global Communication and Contents Division, Contact Us