President meets with the OCA President Al-Sabah
Apr 16, 2013
President Park Geun-hye (left in the photo) met with President Sheikh Ahmad Al-Fahad Al-Sabah of the Olympic Council of Asia this afternoon at Cheong Wa Dae. President Al-Sabah is also concurrently serving as the President of the Association of National Olympic Committees.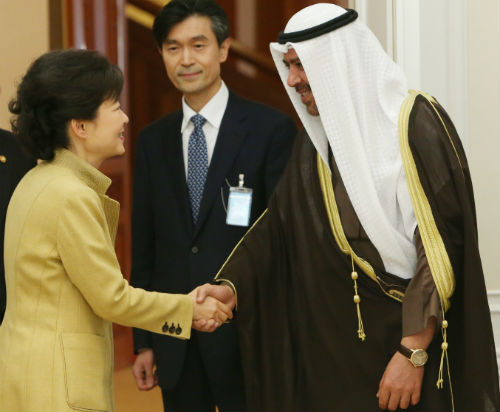 As part of the OCA President's visit to Korea, the host country of the 2014 Asian Games, he made a courtesy call on President Park. During the meeting, they discussed how to work together to make the Incheon Asian Games a success.
On hand at the meeting were OCA Vice President Park Yong-sung, OCA Director-General Husain Al-Musallam and Minister of Culture, Sports and Tourism Yoo Jinryong as well as President Kim Jung-haeng of the Korean Olympic Committee and President Kim Young-soo of the 2014 Incheon Asian Games Organizing Committee.
Government Press Release (April 15, 2013)
Department Global Communication and Contents Division, Contact Us