President vows to enhance welfare for the disabled
Apr 19, 2013
President Park Geun-hye said she will provide more opportunities for people with disabilities to have a better life.
"I will build a country where the disabled can support themselves and make their dreams come true," wrote President Park in a visitor's book during her visit to vocational training and rehabilitation centers for the disabled in Paju, Gyeonggi-do (Gyeonggi Province), on April 16.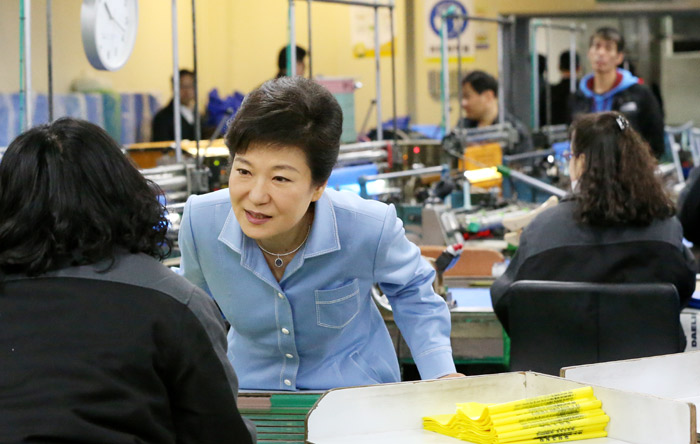 President Park visited two centers for vocational training and rehabilitation of the disabled -- Eden House and Hyeongwon -- where she met the trainees and staff who make plastic garbage bags.
This is the first time the president has met with people with disabilities since her inauguration. President Park expressed her will to introduce customized welfare and provide support. In this regard, the president made the trip in order to listen to the difficulties of people with disabilities and the staff of the centers.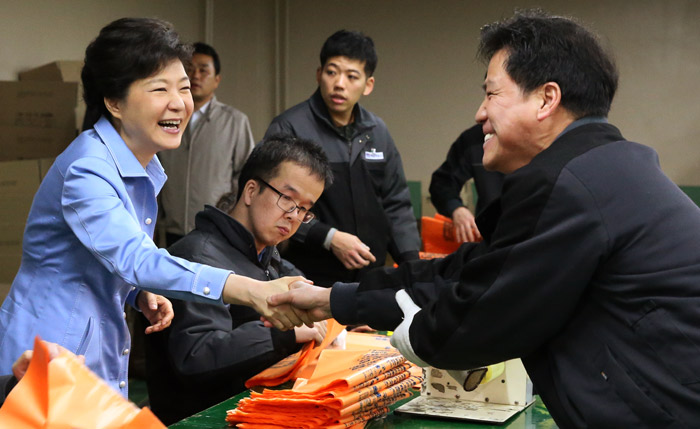 "I will provide more jobs and more educational training opportunities for the disabled who work hard," said President Park.
"Providing more jobs and more opportunities for the disabled to give them hope is my role and also that of the government."
President Park joined the workers in carrying bundles of plastic bags made by the centers and putting them in boxes during her visit.
The government plans to provide management consultation services and extend facilities supporting vocational rehabilitation centers in order to secure stable jobs for the severely disabled.
By Yoon Sojung
arete@korea.kr
Featured Topics
http://www.korea.net/NewsFocus/Policies/view?articleId=107232
URL Copy
Department Global Communication and Contents Division, Contact Us