Bill Gates praises president's creative economy vision
Apr 23, 2013
Bill Gates, co-founder of Microsoft and chairman of TerraPower, gave his support for President Park Geun-hye's creative economy initiative, one of the main goals of her administration.
President Park and the American billionaire met on April 22 at
Cheong Wa Dae
to discuss a variety of issues, including the creative economy, energy innovation, and foreign aid.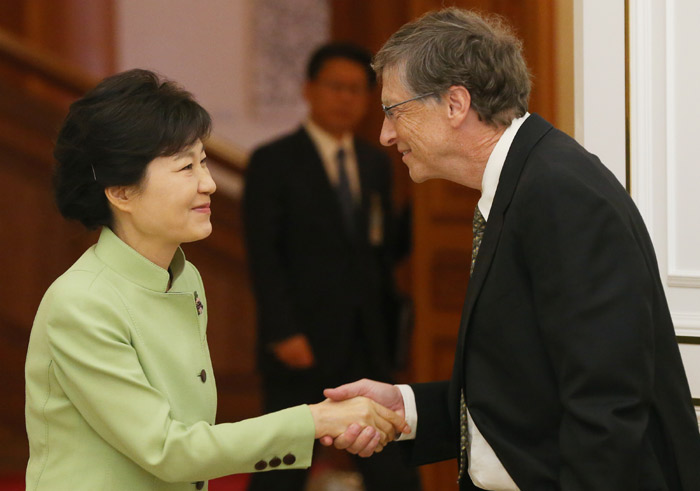 "The creative economy puts priority on human creativity," said President Park. "We aim to generate new added value and more jobs through combining industries and culture, which will lead changes in the economic system. The government needs to extend opportunities for talented people so that they can establish businesses by taking risks."
She mentioned leading U.S. firms like Microsoft and Google which continue to lead the growth of the American economy.
Gates expressed his support for President Park's vision of a creative economy and mentioned Korea's strengths such as "high-quality education, energy, infrastructure, and world-class companies."
He stressed government subsidies in research and development of selected industries, including medicine, computers, and basic science, and extending support for venture start-ups in order to develop entrepreneurship and achieve creativity and innovation.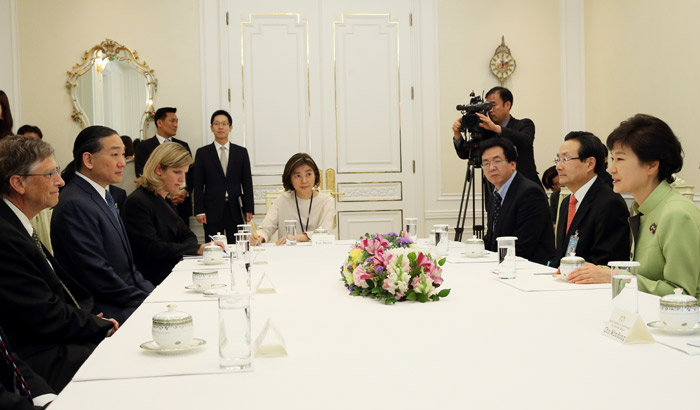 President Park praised Gates as "an example of talents we need in our times" who has "both creativity and social responsibility." The president has mentioned both the late Steve Jobs, co-founder of Apple, and Bill Gates as models of a creative economy.
Apart from the creative economy, President Park and Gates discussed various issues, including aid and energy innovation. Gates said that Korea has been a role model for developing countries in its transformation from an aid beneficiary to provider, urging Korea to make more contributions to overseas assistance.
In regard to energy innovation, Gates expressed his surprise for Korea's nuclear energy exports and development, saying that nuclear power is a safe energy source free from greenhouse gases. He called for Korea's attention in developing the Traveling Wave Reactor (TWR), the next-generation nuclear reactor backed by computer technology, in order to efficiently deal with public safety concerns, nuclear waste, and malfunctions.
"Korea has become the world's fifth-largest country in atomic power exports," said President Park in response.
"Technology development should solve these obstacles like nuclear waste," said the president, expressing her hope that a feasibility study between Gates' TerraPower, a nuclear power development company, and Korean researchers and industry can lead to cooperation.
Gates held a special lecture at Seoul National University a day earlier. At the lecture, he said that creativity and innovation can be achieved by breaking the existing paradigm, while stressing technological innovation as a requirement for a creative economy.
Gates said he "completely agrees with" President Park's vision of a creative economy, saying that a creative, innovative mindset and challenging spirit are essential in order to become a future global leader.
Gates established the Bill & Melinda Gates Foundation in 2000 and has been devoted to charity work since then. After his retirement from Microsoft in 2008, he co-founded TerraPower in 2010 and has shown a strong interest in nuclear development.
By Yoon Sojung
arete@korea.kr
Department Global Communication and Contents Division, Contact Us