President Park meets Asian, European envoys
Apr 29, 2013
President Park Geun-hye discussed with ambassadors from eight West Asian and Eastern European countries how to enhance bilateral cooperation, Cheong Wa Dae reported.
"I hope Korea can develop close relations with countries that bridge Europe and Asia," said President Park during a meeting with ambassadors from Pakistan, Kyrgyzstan, Turkey, Kazakhstan, Georgia, Ukraine, Bulgaria, and Belarus at Cheong Wa Dae on April 26.
"I have been focusing on the development potential of the European and Asian regions," said the president, mentioning her strong interest in close economic cooperation between Korea and countries in Asia and Europe, which she had included as one of her presidential election pledges.
President Park expressed her gratitude for the eight governments' statements protesting Pyongyang's recent nuclear test and supporting the South Korean government's North Korean policy. "The international community needs to speak in one united voice consistently in order to lead [the North] to change toward the right decision," said the president.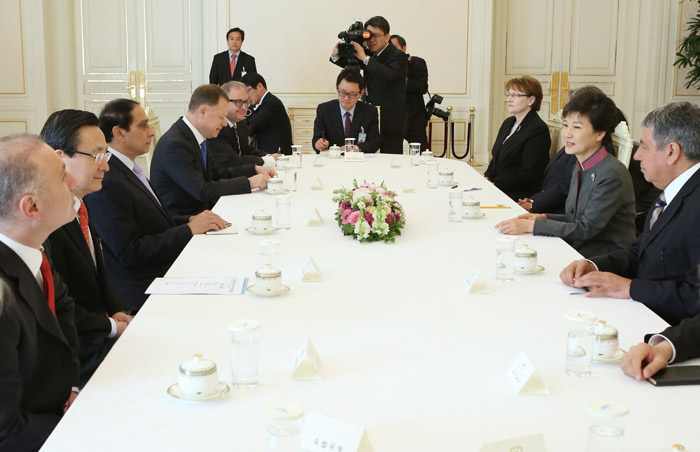 Ambassador of Kazakhstan Dulat Bakishev introduced his country's experience of giving up nuclear weapons, saying that North Korea needs to learn from Kazakhstan. Under the Soviet Union, Kazakhstan had carried out more than 500 nuclear tests and owned 1,340 long-range missiles capable of delivering a nuclear payload but it gave up its nuclear arsenal after gaining independence, according to the Kazakhstani diplomat. "Through pursuing peace and economic development, my country now heads to dynamic growth and its per capita income reached USD 13,000, becoming an active member of the international community," he said.
Ambassador Shaukat Ali Mukadam of Pakistan praised President Park's leadership in regard to her recent proposal of dialogue, while expressing regret over Pyongyang's threats and provocations. "Dialogue and the six-party talks are important for peace on the Korean Peninsula," said Mukadam.
This is President Park's fourth meeting with groups of ambassadors to Korea since her inauguration. She has met a total of 64 ambassadors from countries across Asia, Europe, the Americas, Africa, and Oceania since last year's election victory, extending summit diplomacy.
By Yoon Sojung
arete@korea.kr
Featured Topics
http://www.korea.net/NewsFocus/Policies/view?articleId=107512
URL Copy
Department Global Communication and Contents Division, Contact Us