Conference discusses cultural enrichment for happiness
May 27, 2013
Minister of Culture, Sports & Tourism Yoo Jinryong said that visions of cultural enrichment and creative economy are designed to realize the government's ultimate goal of achieving happiness for the people.
"All policies are designed for the happiness for the people. Culture brings happiness, revives the economy, lets people open their minds, and upgrades a country's international status," said Minister Yoo, defining the comprehensive meaning of culture at a conference on "The Future of the Arts in the Era of Cultural Flourishing" held at the Korea Chamber of Commerce & Industry in Seoul on May 23.
"The cultural flourishing administrative vision focuses on achieving the happiness of the people. By adding human creativity and imagination to culture, we aim to realize a creative economy. Through cultural enrichment, we will build a community based on sharing, consideration, tolerance, and co-existence in order to achieve the happiness for the people," said the minister.
Yoo explained that nurturing talented people with creativity and imagination is the core of creative economy initiative.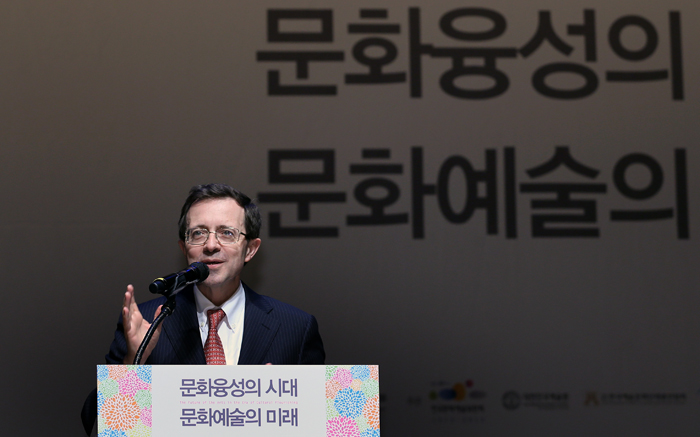 French ambassador to Korea Jerome Pasquier stressed the importance of culture at a special lecture titled "France: An age of culture flourishing."
"Culture is the most important element of the pursuit of happiness for the people," said the ambassador.
He emphasized that in France, people of all society strata can participate in a variety of cultural events, mentioning some the of well-known culture and arts festivals in the country.
This conference was composed of lectures from heads of culture-related government organizations, scholars, and artists, from both Korea and overseas.
Presenters of the conference, including the Literature Translation Institute of Korea President Kim Seong-Kon, British music producer Steve Brown, well-known Korean novelist Kim Young-ha, delivered lectures on various themes related to the cultural flourishing administrative vision, including "Introducing Korean literature to the world," "Pursuing social integration and healing through art," and "The International Language of Popular Music, sustainable, educational, cultural, benevolent."
By Yoon Sojung
arete@korea.kr
Department Global Communication and Contents Division, Contact Us