President holds talks with former Chinese foreign minister
Jun 17, 2013
President Park Geun-hye on June 14 held a meeting on bilateral cooperation with former Chinese Foreign Minister Tang Jiaxuan at Cheong Wa Dae.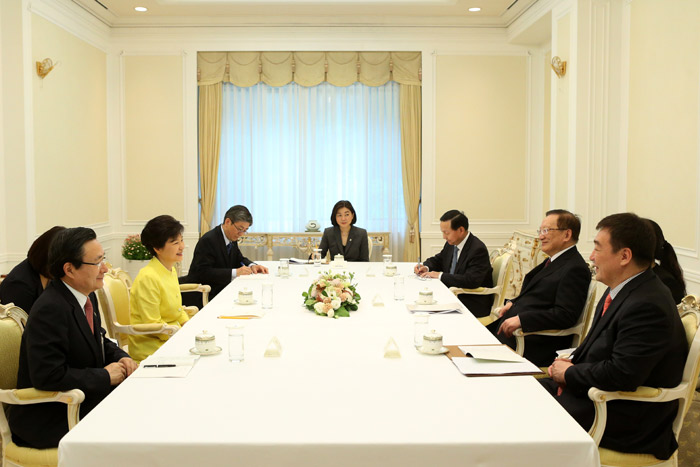 President Park expressed hope that Tang can play a bigger role in helping both countries develop their relationship. She also asked him to deliver her greetings to Chinese President Xi Jinping and Premier Li Keqiang, adding that she is expecting to see them in the near future.
In response, Tang said Beijing is doing its utmost to prepare for President Park's upcoming visit to China so that it can be held smoothly and successfully, while conveying messages from President Xi and Premier Li. He also said China considers her upcoming summit in Beijing as one of its three most important, along with those with Russia and the U.S.
On North Korea, President Park praised the recent cooperative actions of China in pledging to cooperate with South Korea and the firmness showed by Chinese and American leaders toward the denuclearization of the North.
When asked to review the outcome of the recent Sino-U.S. summit, Tang said both Beijing and Washington agreed to set up a mutually beneficial relationship based on trust, make concerted efforts to maintain peace and stability on the Korean Peninsula, and work toward the denuclearization of the region.
He also said China maintains its stance toward dialogue to achieve a nuclear-free Korean Peninsula and peace and stability in the region. Beijing, he added, has been sending a clear message to Pyongyang that its possession of nuclear weapons and nuclear testing will not enhance bilateral ties, and that China will not acknowledge the North as a nuclear power.
In addition, Tang expressed hope for a new channel for inter-Korean exchanges and cooperation.
President Park said China's position has much in common with South Korea's process of trust building on the peninsula, in which Seoul leaves open a channel for dialogue while responding firmly against Pyongyang's provocations and threats with deterrence. She also urged the world to speak with a united voice so that the North can make the right choice.
By Wi Tack-whan, Yoon Sojung
Korea.net Staff Writers
whan23@korea.kr
Department Global Communication and Contents Division, Contact Us