Presidential trip to reshape future vision of Seoul-Beijing ties
Jun 26, 2013
President Park Geun-hye will pay a state visit to China from June 27 to 30 on the invitation of Chinese President Xi Jinping.
"President Park's China visit will offer an opportunity for the two countries to set a new future vision for the coming decades based on the remarkable development of the bilateral relationship which both countries have accomplished over the last 20 years since the establishment of diplomatic ties in 1992," said senior presidential secretary Ju Chul-ki on June 25. "The presidential trip is expected to help enhance the trust between the two leaders and upgrade the bilateral ties."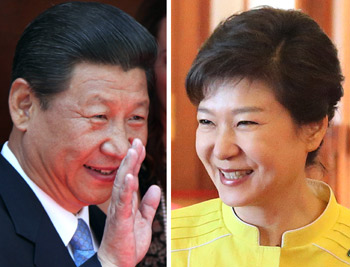 Under the slogan "A trip of heart and trust" (心信之旅), the upcoming visit will reflect President Park's will to strengthen ties with Chinese leaders in order to firm up the strategic cooperation partnership between Seoul and Beijing.
President Park will arrive in Beijing on June 27 for summit talks with Chinese President Xi Jinping and attend a state dinner. In the talks, the two leaders will review Seoul-Beijing relations and discuss the future vision of the two countries, cooperation on pursuing the peace and stability of the Korean Peninsula and Northeast Asian region, cooperation in the international community, and cooperation and exchanges in politics, economy, society, and culture. The two leaders will also issue a joint communiqué which will contain the future vision of the bilateral strategic cooperative partnership.
The next day, President Park will meet with Chinese Premier Li Keqiang who took office this March and then with Zhang Dejiang, chairman of the Standing Committee of the National People's Congress, to have in-depth discussions about ways to substantially boost Korea-China cooperation and enhance bilateral exchanges.
President Park's Beijing itinerary also includes a breakfast meeting with a delegation of Korean business leaders who will accompany her on her trip, a Korea-China business forum, an inspection of Korean firms operating in Beijing, and meeting with Koreans living in Beijing.
The president will deliver an address on June 29 on the trust-based Korea-China ties for the next two decades at a university in Beijing where she will also meet Chinese youths.
After Beijing, President Park will also visit Xi'an from June 29 to 30 where she will meet with top Chinese officials of Shaanxi Province, attend a lunch meeting with Koreans living in the city, and visit historic sites in Xi'an before flying back to Seoul.
By Yoon Sojung
Korea.net Staff Writer
arete@korea.kr
Department Global Communication and Contents Division, Contact Us