Deputy Prime Minister Hyun talks deregulation and boosting investment
Jul 08, 2013
Deputy Prime Minister Hyun Oh-Seok discussed the current administration's economic policies at a luncheon hosted by the American Chamber of Commerce in Korea (AMCHAM) on July 5. He spoke about everything from deregulation and attracting foreign investment to Korea's possible participation in Trans-Pacific Partnership negotiation.
"The government will develop follow-up measures for investment promotion this month, with the focus on easing the regulations on business location and business convergence," said Hyun, who also serves as
Minister of Strategy and Finance
. "We will, within this year, introduce comprehensive package measures to support regional headquarters and R&D centers of global enterprises."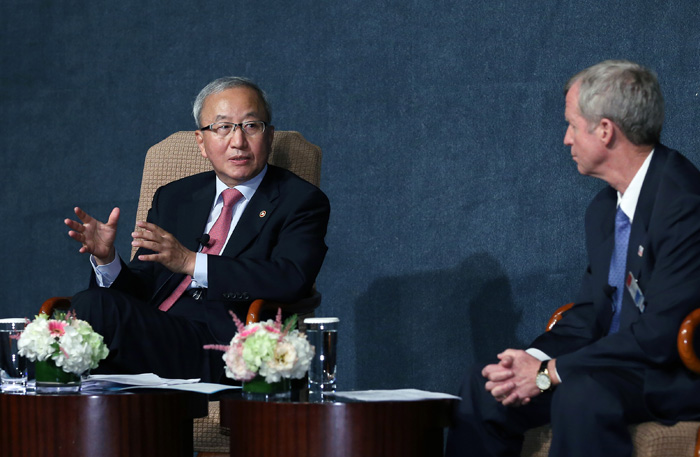 Over 100 people were present at the luncheon meeting including U.S. Secretary of Homeland Security Janet Napolitano, American Ambassador to Korea Sung Kim, AMCHAM Chairman Pat Gaines, and AMCHAM President Amy Jackson.
In response to growing volatility in the international financial market and the exchange rate due to various factors including a possible contraction in the United States' quantitative easing, Hyun said, "We will make sure that the exchange rate is determined by supply and demand and economic fundamentals but when external factors cause profound market volatility, we will reinforce market stability measures."
The Korean economy is expected to gradually improve in the latter half of this year, and the Korean government hopes to achieve 2.7 percent annual economic growth this year, by growing more than 3 percent on-year in the second half of this year.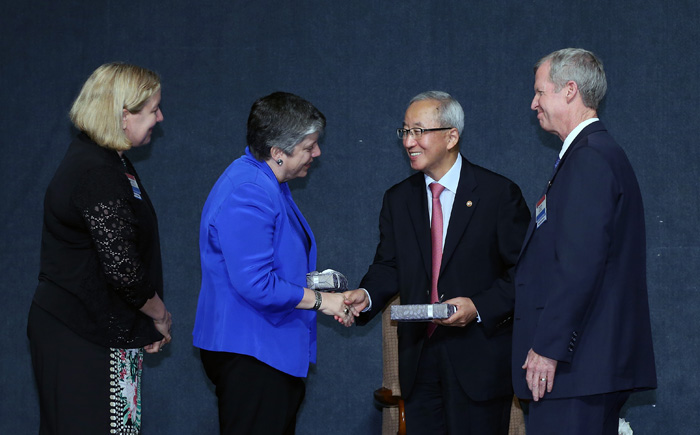 The year 2013 is the second year since the
Korea-U.S. free trade agreement
took effect. Mutual exports and imports for items that have benefited from the FTA have risen in the one-year period since the FTA went into effect on March 15, 2012. American businesses' investments in Korea have also increased by 113.6 percent year-on-year, reaching USD 4.5 billion in the same period.
Hyun also mentioned Korea's position in pursuing TPP negotiations led by the U.S.
"Korea will comprehensively review current conditions of the negotiation, its effects on the Korean economy, developments of the Korea-China FTA, the China-Japan-Korea FTA, and the Regional Comprehensive Economic Partnership (RCEP), and then cautiously determine Korea's joining and the best timing," he said.
Currently, Chile, New Zealand, Singapore, Brunei, the U.S., Australia, Peru, Vietnam, Malaysia, Canada, Mexico, and Japan are participating in the negotiations.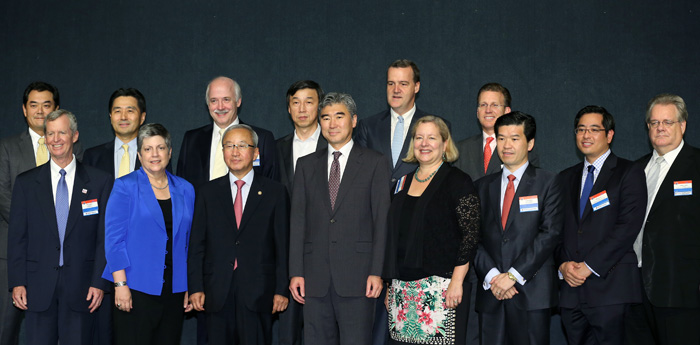 In response to a question on Korea's ambition to become an international financial hub, Hyun said, "We have come to a stage that we have to choose an area in which Korea has more potential instead of doing it from A to Z. We will pursue deregulation of the service industry and convergence of the finance industry."
Prior to the luncheon, Hyun and Napolitano had a meeting to discuss the current economic situation and ways to boost the bilateral economic partnership. Hyun asked Napolitano to increase working visa quotas for Korean professionals.
By Limb Jae-un
Korea.net Staff Writer
jun2@korea.kr
Featured Topics
http://www.korea.net/NewsFocus/Policies/view?articleId=109870
URL Copy
Department Global Communication and Contents Division, Contact Us