Park calls for G20 to cooperate on mutual growth
Sep 06, 2013
President Park Geun-hye
stressed the importance of cooperation to the Group of 20 nations and a sense of joint community to seek mutual growth, at the
G20 Summit
in St. Petersburg, Russia.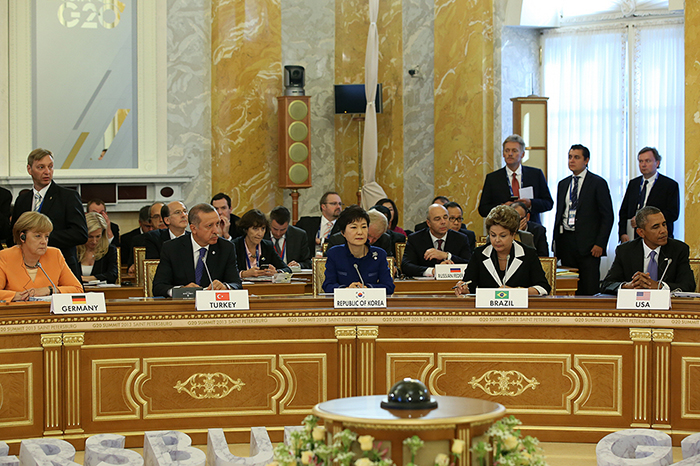 "In a situation where global economies move in gear with each other … G20 members should step up cooperation among under a sense of joint community," Park said during the September 5 opening session under the theme "The Growth of the Global Economy."
Speaking of the looming possibility of a stimulus program exit strategy with the planned reduction of quantitative easing by the U.S. Federal Reserve and growing financial instability faced by emerging economies as a result, Park pointed out that advanced economies should take into consideration difficulties faced by emerging economies with "a sense of joint community" and cooperate to minimize them.
In relation to the issue, Park suggested three policy directions for G20 nations.
First of all, proposing the strengthening of a risk management system in the international financial market, Park said that developed economies must take into account the negative impact that changes in their monetary policies would have on their emerging counterparts, as well as the global economy and financial market. The president also said emerging economies must work harder to improve their macroeconomic health in an effort to ease external shock.
Secondly, Park called for the importance of fiscal soundness to achieve sustainable growth and market confidence and stressed that now G20 nations must strive further to fulfill their promises in light of the announcement of their mid-term fiscal soundness strategy for after 2016.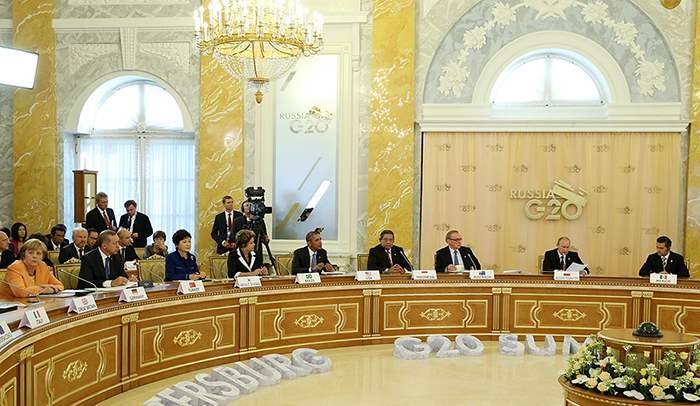 The president also emphasized a concerted effort on international tax avoidance issues, mentioning that Korea will participate in implementing agreements to be made at the G20 meeting.
Thirdly, Park urged G20 members to work toward structural reforms and promoting free trade for mutual growth. In particular, the president stressed that free trade is a more significant policy at a time when there is a need for boosting growth potential globally and that trade expansion is a "win-win policy" that involves little cost as it does not cause credit bubbles or hurt fiscal health.
Park also expressed support for host Russia's call for extending the "standstill" on trade protectionism until 2016 and suggested that they strengthen monitoring of its implementation.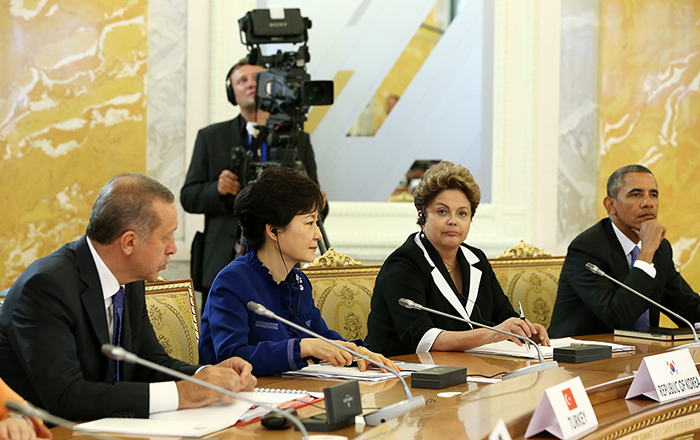 In addition, Park pointed out that developing countries should see tangible results in development issues and that Korea will tap its own development experience and contribute to the execution of promises of developing human resources and building infrastructure as part of new action plans.
By Wi Tack-whan, Limb Jae-un
Korea.net Staff Writers
whan23@korea.kr
Department Global Communication and Contents Division, Contact Us