President discusses creative economy, cultural enrichment with futurists
Sep 16, 2013
President Park Geun-hye met with world-leading futurists John Naisbitt and his spouse Doris Naisbitt at Cheong Wa Dae on September 13 to discuss the values and roles of the government in achieving her visions of a creative economy and cultural enrichment.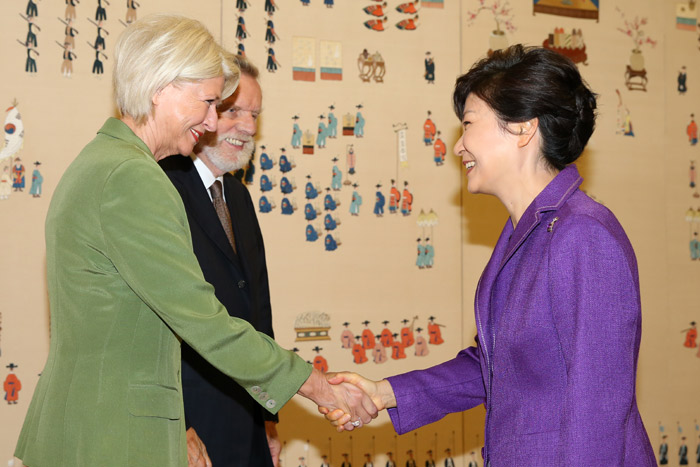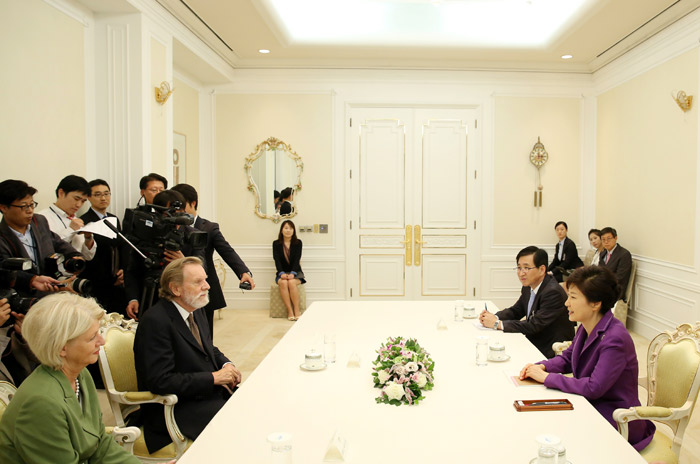 "The number one priority in economic growth is education," said President Park. "The paradigm of the creative economy starts with finding ways to solve slow growth and low employment in the current economic structure. We need to incubate talented human resources with creative ideas to achieve growth."
"Urbanization was the leading force to gather brain power in the past," responded John Naisbitt. "Now, we can gather brain power and get chances for change through the Internet."
Mentioning the worldwide hit song "Gangnam Style" by Korean singer PSY as a successful case of a creative economy which generated added value by combining culture and technology, President Park asked the futurists about the role of the government in order to achieve her vision of a creative economy and cultural enrichment, two administrative priorities of the Korean government.
"As the world becomes integrated with more exchanges, people want to differentiate themselves with uniqueness [but] what the government needs to do is leave them as they are," said John Naisbitt, stressing that supporting is more important than creating culture.
Mentioning the dilemma dubbed the "Asia Paradox" among Asian countries that have low mutual trust and conflicts in politics and security despite high mutual economic dependence, President Park asked the scholars what countries need to do in order to seek co-prosperity in the Asian region and form a multilateral cooperation frame.
Emphasizing the importance of trust and the infinite potential of the region, John Naisbitt hoped that Korea can move forward to the future without being influenced by historic issues involving China and Japan.
By Yoon Sojung
Korea.net Staff Writer
arete@korea.kr
Department Global Communication and Contents Division, Contact Us