Korea, Bulgaria hold Foreign Ministers' meeting
Sep 27, 2013
Korea and Bulgaria held the first Foreign Ministers' meeting since the inauguration of the new governments.
On the sidelines of the 68th Session of the UN General Assembly in New York, Foreign Minister Yun Byung-se and his Bulgarian counterpart Kristian Vigenin held a meeting on September 26 to discuss matters of mutual concern and concrete ways of deepening and advancing bilateral relations.
In the meeting, the two foreign ministers noted that despite the global economic crisis, the two countries have seen rapid leaps in their economic and trade ties as evidenced by their increased trade volume from USD 110 million in 2009 to 290 million in 2012 and agreed to work together to further boost bilateral trade and investment.
Minister Yun elaborated on his government's trust-building process on the Korean Peninsula and the Northeast Asia peace and cooperation initiative and called for Bulgaria, one of the EU nations with a permanent diplomatic mission in North Korea, to understand inter-Korean relations and the current situation on the peninsula.
He also highlighted that South Korea has great interest in investing in Bulgaria's solar power generation industry and asked for Bulgaria's interest and support in this regard.
In response, Minister Vigenin reaffirmed the active support of his newly launched government for South Korea's policies toward North Korea and emphasized Bulgaria's potential role as Korea's gateway to Europe, hoping to see more Korean investments in his country.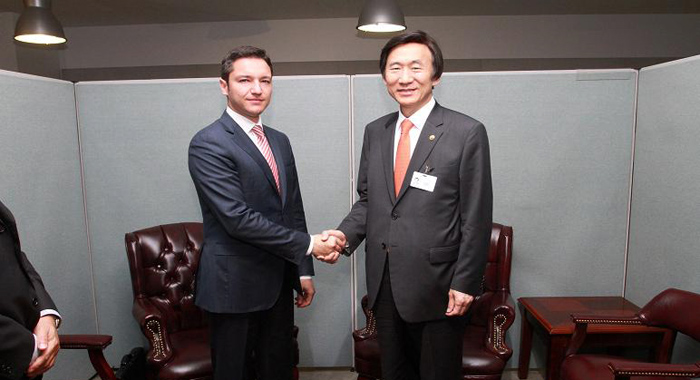 By Sohn Ji-ae
Korea.net Staff Writer
jiae5853@korea.kr
Department Global Communication and Contents Division, Contact Us