President Park urges APEC to push for free trade
Oct 08, 2013
President Park Geun-hye urged Asia-Pacific Economic Cooperation (APEC) members to be at the forefront of the global free trade system, during her visit to Bali, Indonesia, for the APEC Leaders' Meeting on October 7.
In the first session of the APEC Leaders' Meeting, held at the Sofitel Bali Nusa Dua, President Park, the first presenter, delivered her speech, "APEC's Role in Strengthening the Multilateral Trading System." She said that, "A free trade policy has the highest efficiency and the lowest cost. It can help with economic revitalization, job creation and can improve consumer welfare, all without having to shoulder a financial burden."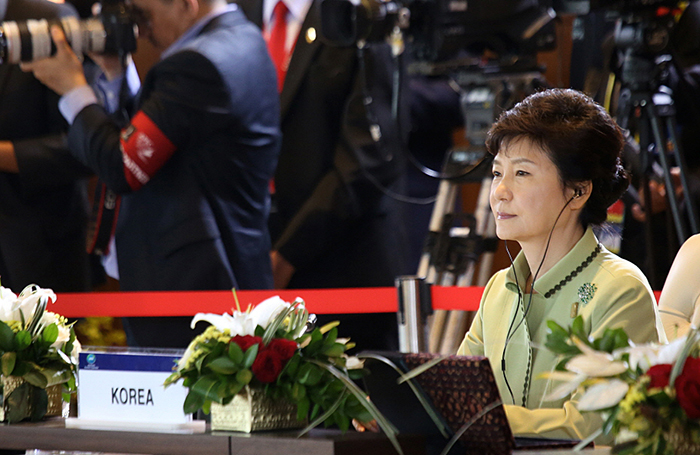 "To pursue a global economic recovery, it is important to harmonize macroeconomic policies and monetary policy. Having overcome two financial crises, the Korean government realizes the importance of increasing the amount of free trade in the world. The mutual opening of economies is truly important for economic recovery," President Park said.
In order to promote free trade, President Park emphasized the need to strengthen the multilateral trading system based on World Trade Organization (WTO) agreements, respond to protectionism and coordinate regional integration. In regard to the WTO's multilateral trading system, she said, "APEC member countries need to become strong supporters of the multilateral trading system. Despite the recent spread of regional protectionism, a multilateral trading system based on WTO rules is needed to strengthen free trade and trading rules and to block protectionism."
She also said that many people will question the WTO's role in guaranteeing global free trade and trust in the multilateral trading system will be damaged, if the stalled Doha Development Agenda negotiation does not continue. "APEC leaders need to send a strong message, urging the WTO to continue its trade negotiations," she said.
Concerning protectionism, President Park said that APEC member countries need to work on preventing the spread of protectionism at the global level. "All countries are tempted to raise protectionist barriers when they undergo difficulties. But we have all learned from history that the spread of protectionism only delays economic recovery," said the president.
"A small protectionist measure taken in one country could cause another country to increase its protectionist barriers, followed by the possibility of greater protectionism across the region. Protectionists need to be warned that no matter how small their policy, we will make a concerted effort to prevent its spread," said President Park.
"All countries need to make an effort so that discussions on regional integration can move forward in a transparent manner within APEC. This will help realize the goal of a multilateral Free Trade Area of the Asia Pacific (FTAAP), one of the long-term goals of APEC," said the president in regard to regional integration.
"If we think of the FTAAP as a mighty river, each series of discussions can be considered to be a small tributary. We need to make these various tributaries flow into the larger river," said the president, emphasizing the importance of regional economic integration.
By Wi Tack-whan, Yoon Sojung
Korea.net Staff Writers
whan23@korea.kr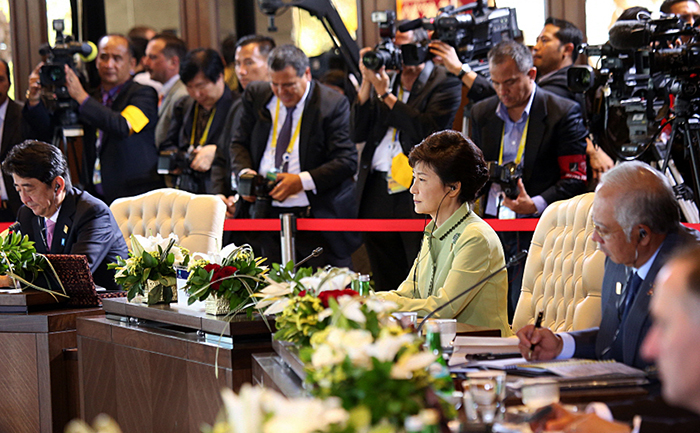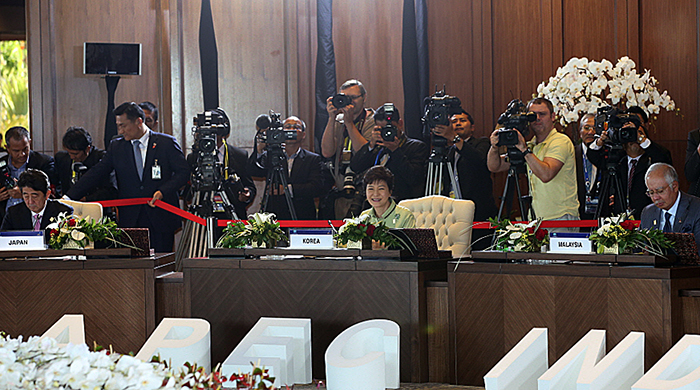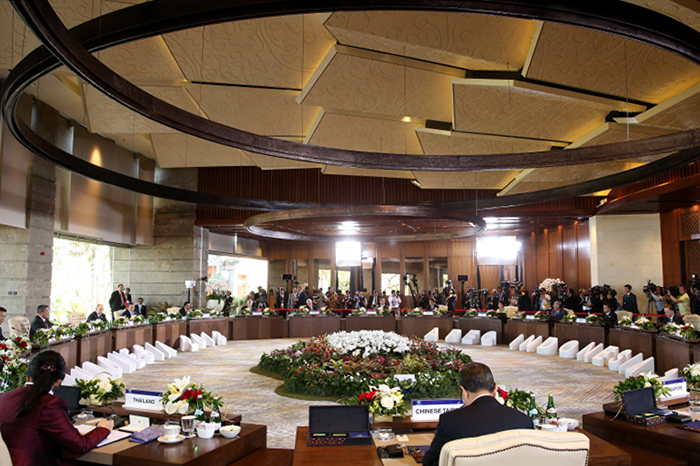 Department Global Communication and Contents Division, Contact Us