President Park calls for more private infrastructure investment
Oct 08, 2013
President Park Geun-hye
stressed the importance of boosting private sector infrastructure investment during the second session of the 25th
Asia-Pacific Economic Cooperation (APEC)
Leaders' Meeting in Bali, Indonesia on October 8.
In her speech, Park expressed her support for the APEC Framework on Connectivity and for the APEC Multi-year Plan on Infrastructure Development and Investment, both plans put forward by the host, Indonesia.
"To achieve APEC's long-term vision -- the multilateral Free Trade Area of the Asia Pacific (FTAAP) -- goods and people should be allowed to move freely within APEC," Park said. "In today's world, in which finished goods are produced across many different countries, the ease with which goods are transferred from one country to another determines a countries' competitiveness and its economic growth."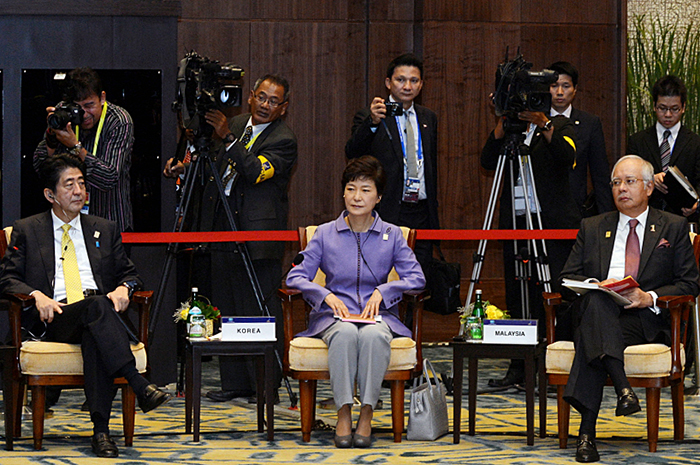 Speaking on the importance of infrastructure, Park said APEC countries should be more closely connected with each other and that there needs to be an increase in the amount of infrastructure that physically connects APEC nations.
"It takes a large long-term investment to build infrastructure. There is a limit to public finances. So it is necessary to promote the private sector's involvement in infrastructure investment," Park said. "Multilateral development banks including the World Bank and the Asia Development Bank need to cooperate so as to eliminate barriers faced by private sector investment."
Park also said it is important to build new infrastructure but emphasized that it is more vital to effectively utilize existing infrastructure. She also said that intelligent traffic systems could help reduce logistic costs, emphasizing the use of information technologies.
"If APEC nations could utilize infrastructure more effectively with the use of information technology, they could further increase their connectivity without the cost of new infrastructure projects," Park said.
Wi Tack-whan, Limb Jae-un
Korea.net Staff Writers
whan23@korea.kr
Featured Topics
http://www.korea.net/NewsFocus/Policies/view?articleId=113312
URL Copy
Department Global Communication and Contents Division, Contact Us