President Park holds summit with Sultan of Brunei
Oct 10, 2013
President Park Geun-hye
had a bilateral summit with Brunei's Sultan Hassanal Bolkiah in Brunei on October 9. They discussed how to boost friendship and cooperation between the two countries, the situation on the Korean Peninsula and their collaboration in both regional and international settings.
The meeting took place on the sidelines of the East Asia Summit (EAS) forum, the annual meeting of the
Association of the Southeast Asian Nations
(ASEAN) and the ASEAN+3 meetings, which include ASEAN's three Northeast Asian partners: Korea, China and Japan.
During the summit at the International Convention Center in Bandar Seri Begawan, Park stressed that the volume of trade between Brunei and Korea has increased 13-fold since the beginning of diplomatic relations in 1984 and that the scope of their exchange and cooperation has widened to include construction, agriculture and fisheries.
She expressed her hope that the cooperative relationship between the two countries will expand and develop further, especially with the 30th anniversary of diplomatic relations coming in 2014.
Park also said more Korean companies are doing business and investing in Brunei and asked for Sultan Bolkiah's support for their continued activity in the country. In addition, she asked the sultan to help Korean companies participate in Brunei's national bridge-construction project.
Park also said she welcomes the ongoing efforts to pursue the signing of a memorandum of understanding between the two countries which would cover agriculture and fisheries. She hoped that it would be concluded as soon as possible.
Sultan Bolkiah acknowledged that economic cooperation between the two countries has made much progress and expressed his gratitude for Korea's purchase of Brunei's liquefied natural gas. He expressed hope that their economic cooperation will further develop in the future.
Park also thanked the current host of the ASEAN meetings, Brunei, for showing support for South Korea's policy toward North Korea. She asked that Brunei send a clear and consistent message to North Korea so that it can walk the path of true change and peace. Sultan Bolkiah said he would support Park's efforts for peace.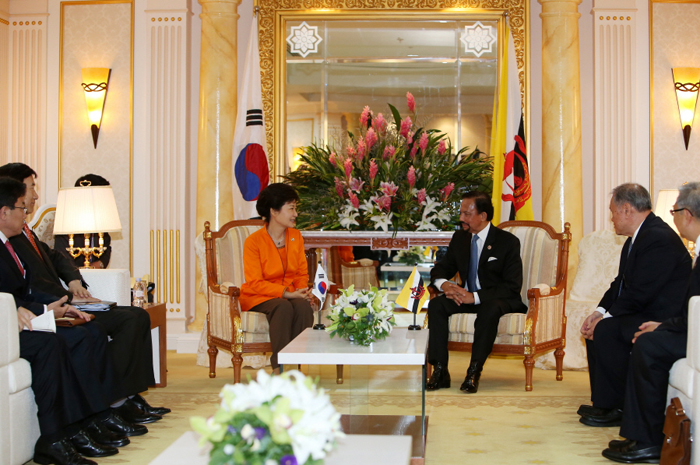 Park appreciated that the host Brunei has played an active role in regional stability and cooperation within ASEAN and she hoped for stronger Korea-ASEAN cooperation. She also hoped that Korea and Brunei cooperate to form a more deeply integrated ASEAN.
In addition, Park asked for the sultan's support in promoting the Korea-ASEAN Commemorative Summit in 2014, to be held in celebration of the 25th anniversary of the start of dialogue between Korea and ASEAN.
In response, Sultan Bolkiah expressed his full support for Korea's efforts and said he will try to participate in the event himself. Park invited Sultan Bolkiah to Korea and he said he is hoping to visit as soon as a mutually suitable time can be arranged.
By Wi Tack-whan, Limb Jae-un
Korea.net Staff Writers
Whan23@korea.kr
Department Global Communication and Contents Division, Contact Us