President Park leads consensus on trade liberalization at APEC
Oct 10, 2013
President Park Geun-hye finished her itinerary in Bali, Indonesia, on October 8, where the two-day APEC Leaders' Meeting was held. On the first day of the APEC summit, President Park Geun-hye, speaking as the first presenter, stressed the need to strengthen the multilateral trading system, to make progress in the Doha Development Agenda negotiations at the World Trade Organization, to postpone or freeze future protectionist measures and to lift existing protectionist barriers. She encouraged the APEC leaders to reflect on these points and to include them in the final leaders' declaration.
President Park engaged in a series of meetings with other APEC leaders, including both leaders' meeting sessions, a working lunch and a dialogue session with Southeast Asian countries. During the meetings, she spoke about Korea's experiences in promoting private investment in infrastructure and Korea's contribution to economic growth in developing countries while acting as a bridge between advanced and developing economies.
In the second session of the summit meeting, "APEC's vision for the region's connectivity," APEC leaders discussed ways to enhance logistics and communication infrastructure, ways to harmonize regulations among countries and ways to increase human resource exchanges, such as tourism and education.
At the meeting, President Park emphasized that building infrastructure to physically connect neighboring countries is crucial in order to bring APEC closer together. To secure the financial resources required, active cooperation from multilateral banks, such as the World Bank, is just as important as cooperation from the governments and investment from the private sector, said the president.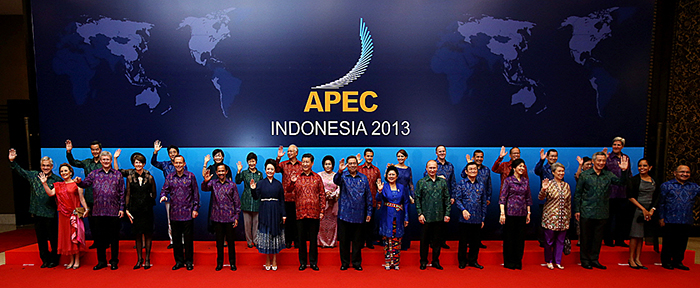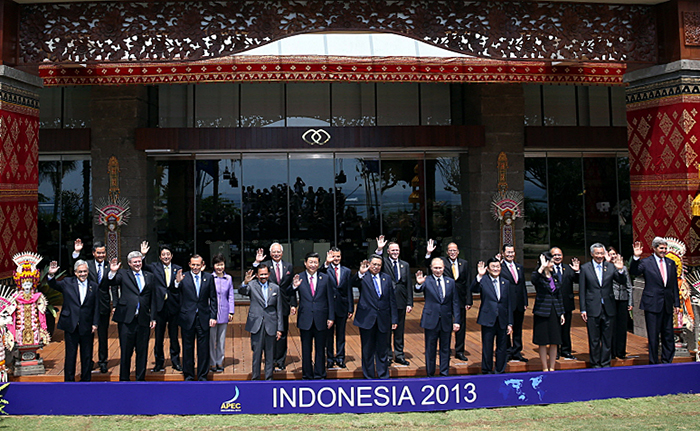 She also shared with other APEC leaders Korea's experience in boosting private sector participation in infrastructure investment. In the late 1990s, Korea reshaped the public-private partnership (PPP)-related legal system, allowed the private sector to invest in various infrastructure projects and removed limits on private sector participation in infrastructure projects. Korea built a special organization at a state research body, the Korea Development Institute, to provide technological support to PPP firms. Thanks to these efforts, private sector participation in infrastructure investment has shown more than a 2.5-fold increase.
"By effectively using existing IT infrastructure, APEC member countries will be able to upgrade their connectivity without having to build new infrastructure," said President Park, stressing the use of IT.
In regard to IT use, she outlined Korea's experience in saving logistic costs by extending its intelligent public transport system backed by GPS and by implementing a satellite location-tracking service for containers as they move through the trans-Siberian railway and the global maritime shipping routes.
As a result of the discussions, APEC participating leaders pledged to realize the APEC community vision to upgrade regional connectivity by 2030. To concretely achieve this goal, they adopted the "APEC Framework on Connectivity" and the "Multi Year Plan on Infrastructure Development and Investment," both annex documents alongside the APEC Leaders' Declaration.
After the second session, during the working luncheon, "Sustainable Growth with Equity: Food and Energy Security," APEC leaders came to a consensus that the lack of food, water and energy will deepen due to the rapid increase in population, economic development, urbanization and climate change. They expressed their common understanding of the need to coordinate policies in order to attain sustainable growth.
During the lunch meeting, President Park said that all peoples need to be aware that limited food, water and energy resources are closely related, though they were regarded as separate issues in the past. "We need to find a comprehensive answer to solve food, water and energy problems by considering the impacts that each of the three has on the other," said the president.
In regard to access to resources, she pointed out that there is a big gap between social strata and geographic area. The president urged APEC members to work together to provide equal access to resources, for people of all classes, including people from vulnerable social groups or geographic areas, in order to achieve sustainable and equitable growth.
To achieve sustainable growth with limited resources, President Park said that the use of science and technology will provide the fundamental answer. She spoke about Korea's effective electricity-management system and the way in which this created a new service industry. This new industry not only made for a more efficiently-managed electricity grid, but also created more jobs as a secondary market developed for the trading of stored electricity.
To contribute to sustainable growth in the Asia-Pacific region, President Park said that Korea will hold an "appropriate technology" workshop next June, to be co-hosted by APEC. Also, Korea will host the World Energy Congress next week in Daegu, where the World Water Forum will be held in 2015.
By Wi Tack-whan, Yoon Sojung
Korea.net Staff Writers
whan23@korea.kr
Featured Topics
http://www.korea.net/NewsFocus/Policies/view?articleId=113390
URL Copy
Attached File
Department Global Communication and Contents Division, Contact Us