President Park holds summit with Singapore, Australia, Myanmar
Oct 10, 2013
President Park Geun-hye
held summits with Singaporean Prime Minister Lee Hsien Loong, Australian Prime Minister Tony Abbott and Myanmar President Thein Sein at the International Convention Center in Bandar Seri Begawan, Brunei, on October 9. The summits took place on the sidelines of the East Asia Summit (EAS) forum, the annual meeting of the
Association of the Southeast Asian Nations (ASEAN)
and the ASEAN+3 meetings, which include ASEAN's three Northeast Asian partners: Korea, China and Japan.
[Korea-Singapore Summit]
President Park and Prime Minister Lee discussed bilateral issues including economic cooperation between the two nations and the Korea-Singapore free trade agreement. Lee said he is looking forward to his state visit to Korea, scheduled for December, and again invited Park to Singapore. Lee also hoped for further discussion on the Korea-Singapore FTA and for greater mutual cooperation in the aviation sector.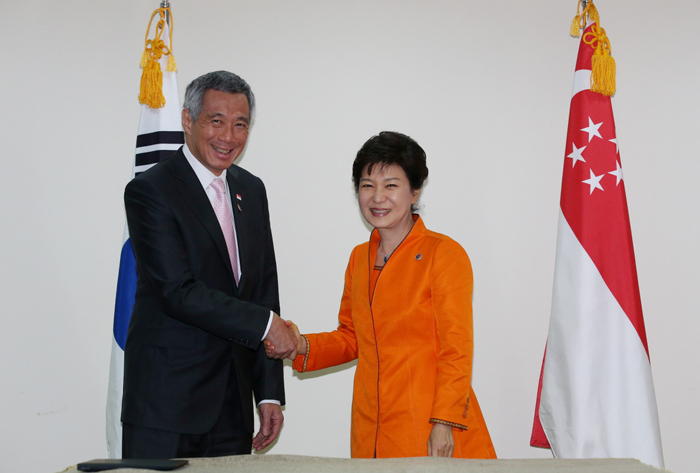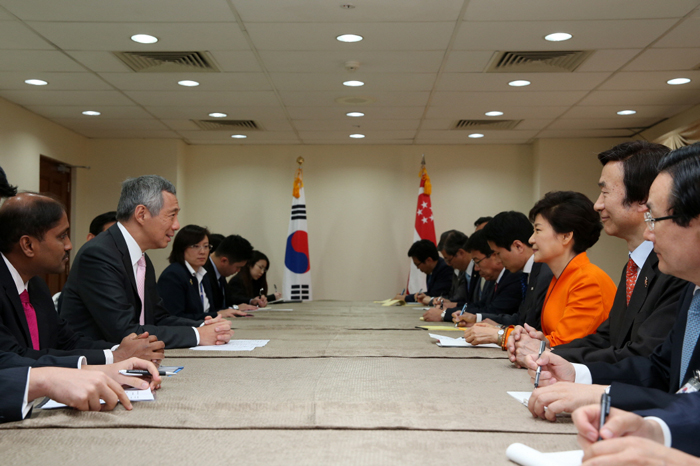 President Park suggested the two countries find a way to balance their interests, thereby maximizing the positive effects of the FTA, and that they should discuss aviation-related cooperation in a mutually beneficial manner. Park said that when Lee visits Korea in December, they should seek ways to develop mutual prosperity by tapping the strengths of each nation and should find ways to cooperate in construction, infrastructure, research and development, small- and medium-sized enterprises and when doing business in third countries.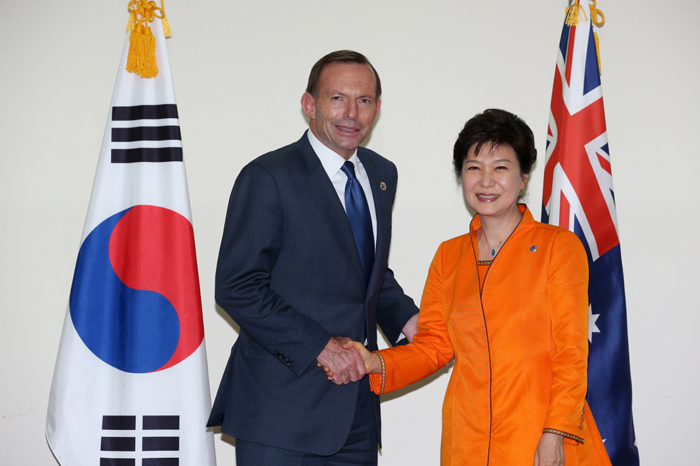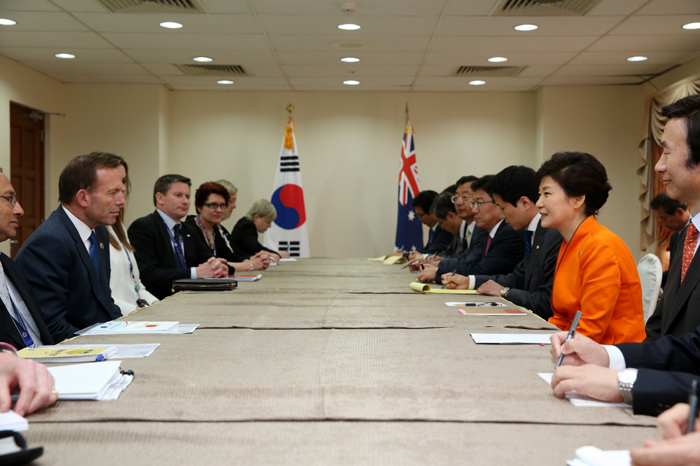 [Korea-Australia Summit]
President Park also held a summit with Australian Prime Minister Tony Abbott and discussed ways to strengthen friendly relations with his new administration. Park said the two nations share basic values and strategic interests in global issues and hoped for closer cooperation in the economy, natural resources and education, as well as in the situation on the Korean Peninsula and on the international stage.
Abbott expressed his country's willingness to strengthen its ties with Asia through the New Colombo Plan being pursued by his administration and he hoped that the ongoing free trade agreement negotiations between Australia and Korea, the largest economic concern between the two, will be settled as soon as possible.
The two leaders also agreed to more closely cooperate on issues surrounding the Korean Peninsula. Abbott expressed his support for the South Korean government's North Korea policy including the Korean Peninsula trust-building process.
President Park hoped that the G-20 Summit, to be hosted by Australia in early 2014, will be successful and the leaders said they would cooperate further on that matter.
[Korea-Myanmar Summit]
Later, Park met Myanmar President Thein Sein. They discussed ways to further develop friendly relations between the two countries and how to expand economic cooperation, touching upon issues on the Korean Peninsula as well as regional and international cooperation.
The president acknowledged that there are many human exchanges between the two countries and hoped to expand and further develop their cooperation, considering Myanmar's high economic potential.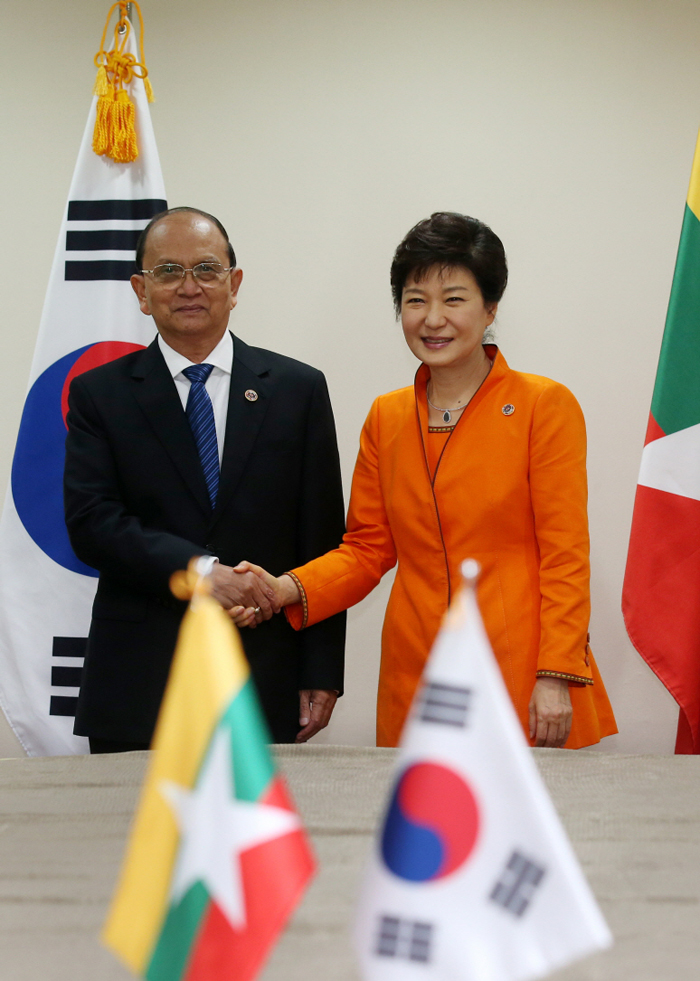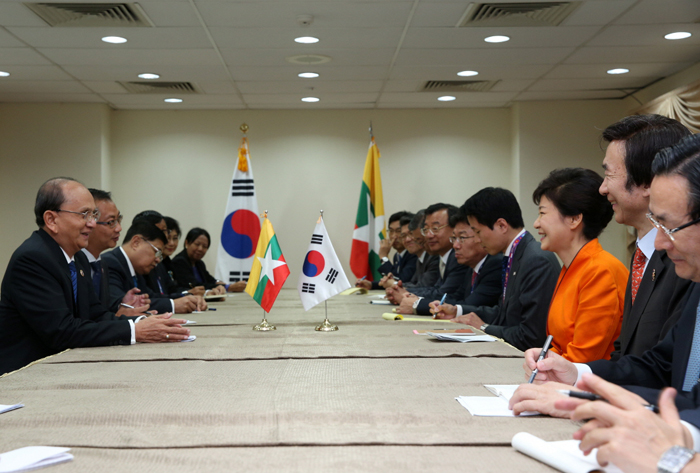 Thein Sein showed great interest in Korea's Saemaul Undong, also known as New Community Movement, and said that rural development is a priority for his country.
President Park expressed her gratitude for Myanmar's support of South Korea's North Korean policy and suggested that they cooperate further in encouraging North Korea to walk the path of true change and peace.
Thein Sein said that his country supports nonproliferation and that he supports South Korea's position in that matter.
President Park congratulated him on Myanmar's chairmanship of ASEAN to come in 2014 and expressed hope for more developed and greater relations between Korea and ASEAN during his country's chairmanship.
In addition, Park asked for support on a special Korea-ASEAN summit to be held in Korea in December 2014.
Then Sein invited Park to Myanmar and hoped that she could visit the country soon. Park thanked the Myanmar president and said she is willing to visit the country at a mutually suitable time.
By Wi Tack-whan, Limb Jae-un
Korea.net Staff Writers
Whan23@korea.kr
Featured Topics
http://www.korea.net/NewsFocus/Policies/view?articleId=113423
URL Copy
Department Global Communication and Contents Division, Contact Us