President Park discusses climate change, food security at EAS
Oct 11, 2013
President Park Geun-hye
discussed climate change, disaster control, food and energy security and cooperation among East Asian countries, at the East Asia Summit (EAS) in Bandar Seri Begawan, Brunei, on October 10.
Participating leaders at the EAS agreed that the world's interest in the summit has grown since 2011 when the United States and Russia joined. They also shared a common understanding that the role of the EAS holds greater significance than other forums because it is designed as a forum for strategic dialogue and political, security and economic cooperation among the countries of East Asia.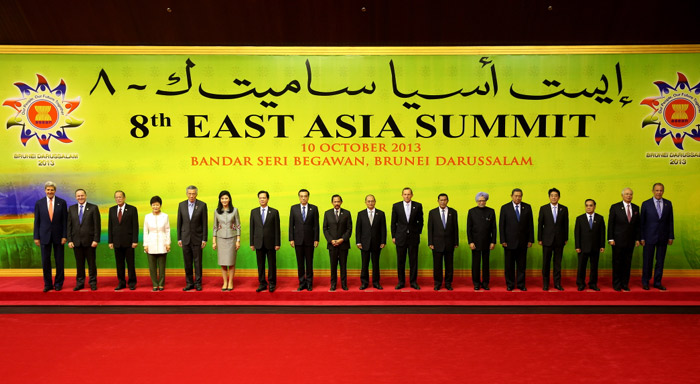 President Park said that selecting climate change, disaster control and food and energy security as agenda items for the summit was very timely and appropriate. All three of these are areas of cooperation for the EAS, as they have developed into very serious global issues, she said. Since long-term, continuous efforts are needed to solve the worldwide food shortage crisis, the president said she welcomes the adoption of the "Declaration of the 8th East-Asia Summit on Food Security" spearheaded by Brunei. She emphasized that countries need to cooperate and make a joint response when faced with a natural disaster. She pointed out that climate change has resulted in a rise in sea levels and in large-scale natural disasters which cause enormous economic damage and loss of life across the region. She mentioned the ASEAN Regional Forum Disaster Relief Exercise (ARF DiREx), a joint natural disaster rescue drill held by Korea and Thailand in May this year, as an example of such joint efforts.
President Park said that cooperation in energy security is essential among East Asian countries as both energy consuming and producing countries are neighbors in the region. She expected all parties to cooperate in finding an effective response to energy security problems at the upcoming World Energy Congress scheduled to take place in Daegu, Korea, from October 13 to 17.
In order to help the EAS position itself as a strategic forum that can handle global challenges, the president introduced Korea's plan to hold private sector-level discussions on the future direction of the EAS in 2014 and asked for active interest and participation from all EAS member countries. In regard to North Korean issues, EAS leaders, including the leaders of Japan and Australia, urged North Korea to fully implement the UN Security Council Resolution and give up its nuclear weapons in a complete, verifiable and irreversible manner. All EAS leaders stressed the importance of a denuclearized Korean Peninsula. The EAS heads of state welcomed President Park and pledged their support for her Korean Peninsula trust-building process and her Northeast Asia peace initiatives.
At the end of the conference, the EAS leaders adopted the "Declaration of the 8th East-Asia Summit on Food Security."
By Wi Tack-whan, Yoon Sojung
Korea.net Staff Writers
whan23@korea.kr
Department Global Communication and Contents Division, Contact Us