President emphasizes Korea-Indonesia economic partnership, peace vision
Oct 11, 2013
President Park Geun-hye
has expressed her firm will to push forward the Comprehensive Economic Partnership Agreement (CEPA) between Korea and Indonesia. In a written interview with the Indonesian daily Kompas published on October 11, President Park said that the mutual economic partnership will help build a systemic foundation to upgrade bilateral relations.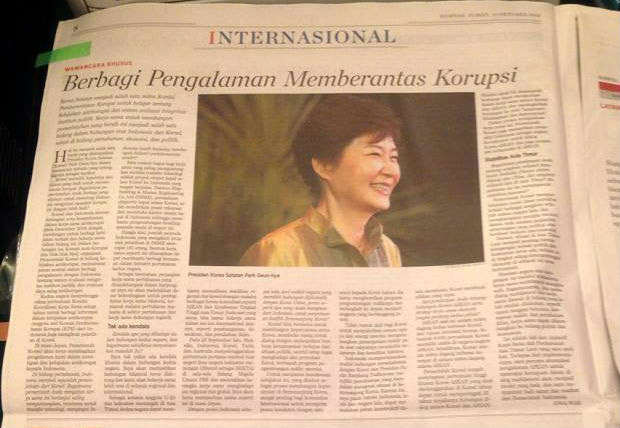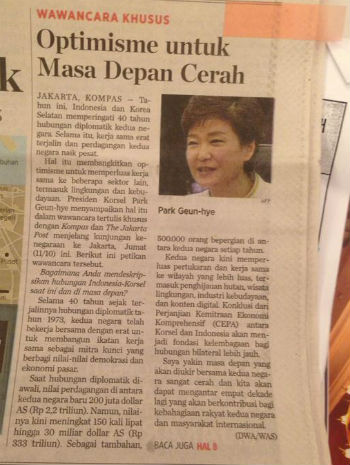 "The volume of bilateral trade has increased over 150 times to reach USD 30 billion today, starting from USD 0.2 billion in 1973 when the two countries first established diplomatic relations," said President Park, who is currently paying a state visit to Indonesia at the invitation of Indonesian President Susilo Bambang Yudhoyono.
In regard to cooperation in the defense industry between Korea and Indonesia, the president said that the on-going submarine export project is a prime example of the win-win bilateral cooperation that can be built through technology transfer projects. She expressed her hope that her visit would offer institutional grounds for the two countries to move closer, to reach a defense agreement that would include human resource exchanges and logistical support.
In regard to Indonesia's role in resolving issues on the Korean Peninsula, President Park said that Seoul will firmly respond to Pyongyang's provocations and to its nuclear weapons program, while providing humanitarian support and leaving a dialogue channel open to build trust. "For the success of the Korean Peninsula trust-building process, the international community needs to consistently send one united message to the North so that it will give up its nuclear weapons and come forward as a responsible member of the international community," said the president.
"As Indonesia has historically had friendly relations with North Korea and President Susilo Bambang Yudhoyono has a deep understanding of the issues on the Korean Peninsula, I hope he can play a constructive role in leading Pyongyang to make the right choice," said President Park. "If we begin multilateral dialogue and cooperation on softer issues, such as disaster relief, nuclear safety and climate change, we can then, in the end, extend that cooperation into broader areas like politics and security," said President Park, explaining her Northeast Asia peace vision and the way in which it can enhance regional stability in East Asia.
"I think ASEAN's experience in developing multilateral talks will serve as a good example and I expect advice from the Indonesian government in this regard," said the president.
By Wi Tack-whan, Yoon Sojung
Korea.net Staff Writers
whan23@korea.kr
Department Global Communication and Contents Division, Contact Us