Korea, Indonesia to cooperate in creative industries
Oct 15, 2013
Thanks to improved bilateral relations and stronger cooperation, Korea and Indonesia will be able to increase their collaboration in creative industries.
During President Park Geun-hye's state visit to Indonesia last weeked, the two countries signed a memorandum of understanding (MOU) to boost cooperation to promote creative industries. They agreed to bolster cooperation in art, crafts, music, film, performing arts and video games.
Korean Minister of Culture, Sports & Tourism Yoo Jinryong and Indonesian Minister of Tourism and Creative Economy Mari Elka Pangestu exchanged the MOU at the presidential residence in Jakarta. President Park and her Indonesian counterpart Susilo Bambang Yudhoyono were present.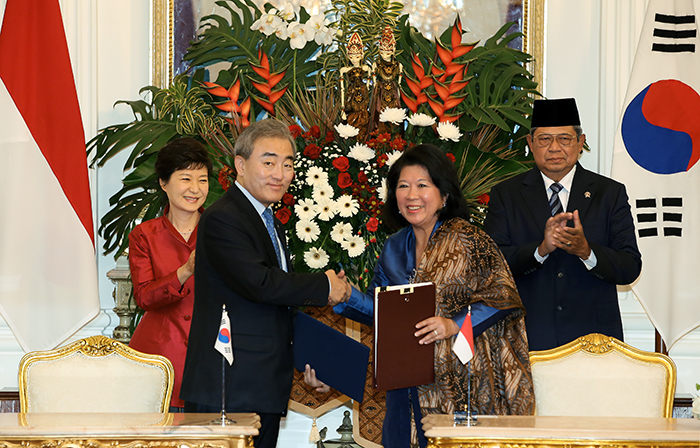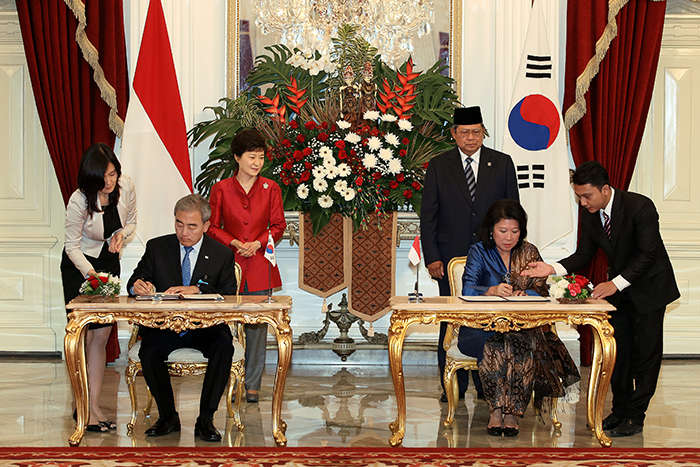 Indonesian President Susilo Bambang Yudhoyono said at the joint press conference that they talked about cooperation in tourism and in many creative industries. "Korean pop music and films are quite popular in Indonesia at the moment, so I hope our cooperation in these sectors can be strengthened in the future. In regard to creative industries more broadly, Indonesia has developed a huge creative market," said the Indonesian leader.
President Park responded that Korea will bolster cooperation in films, music, games, animation and digital content development.
The MOU paves the way for more comprehensive cooperation between Korea and Indonesia across all creative industries, allowing for more exchanges of information, more joint-training sessions and more educational, research and development projects.
By Jeon Han, Yoon Sojung
Korea.net Staff Writers
hanjeon@korea.kr
Department Global Communication and Contents Division, Contact Us