President Park meets with business leader, economist
Oct 16, 2013
President Park Geun-hye met with Royal Dutch Shell CEO Peter Voser and Professor Lawrence Summers of Harvard University at Cheong Wa Dae on October 15.
President Park met Voser to discuss stable ways to supply liquefied natural gas (LNG) as well as to discuss an energy strategy for the future, investment cooperation and the creative economy.
The Shell CEO, who is visiting Korea for the 22nd World Energy Congress 2013 in Daegu, spoke of possible cooperation between his firm, one of the world-leading global energy corporations, and Korea. Cooperation would cover three areas, he said: cooperation with the Korea Gas Corporation (KOGAS) in purchasing LNG in Australia and Canada; cooperation with KOGAS in the construction of Prelude FLNG, the world's first floating liquefied natural gas (FLNG) project, where Samsung Heavy Industries will contribute its advanced shipbuilding technology; and, cooperation with Hankook Shell Oil. Voser added that his firm will increase the amount of LNG it supplies to Korean firms, to ten percent from the current three percent.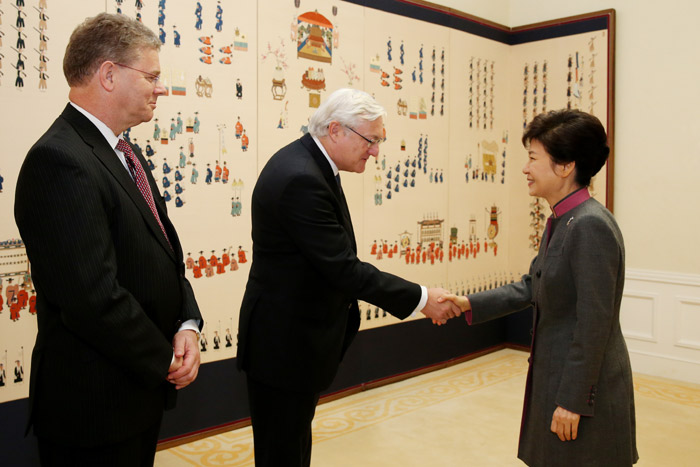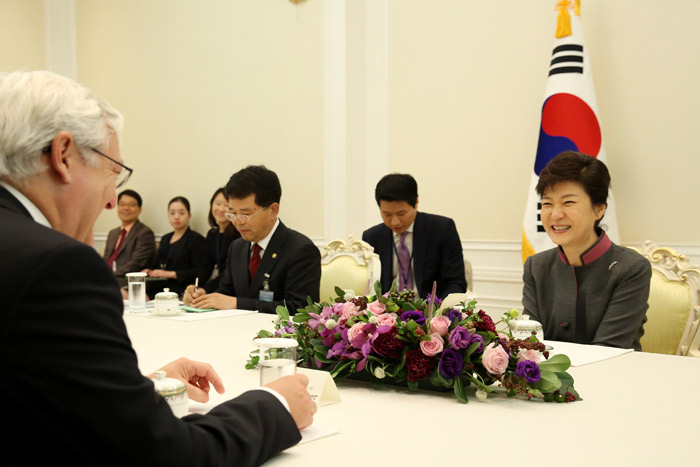 President Park said that LNG will play a big role in Korea's energy supply plans. "Energy security is quite important for Korea and we take a strong interest in LNG as a clean source of energy. I am glad that KOGAS and Shell can cooperate, backed by their close partnership," said the president.
President Park told of the visit she made to Shell headquarters in The Hague, Netherlands, in April 2011, where she learned about the firm's Prelude FLNG project. Dubbing the cooperation between Shell and KOGAS as a "match made in heaven," she called for continuous cooperation between Shell and Korean shipbuilders as well. "When creative ideas mix with science, technology and information & communication technologies (ICT), it can become a model for a creative economy which generates new industries and new jobs," said the president.
Later that day, President Park met professor Lawrence Summers of Harvard University to discuss prospects for international financial markets and the world economy, in light of the U.S. winding down its stimulus policy. Professor Summers visited Korea to attend the World Knowledge Forum.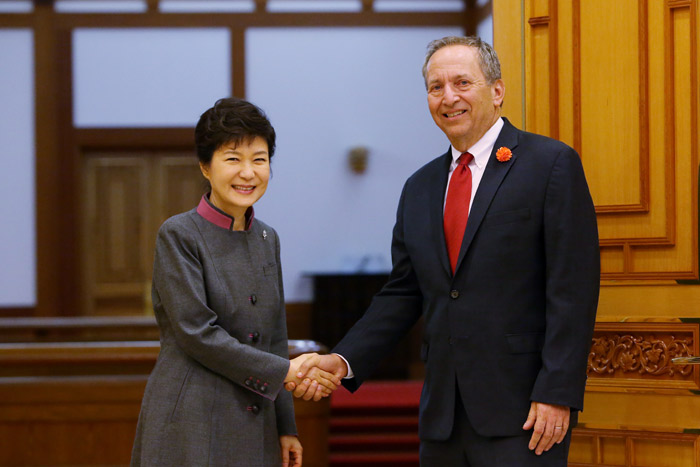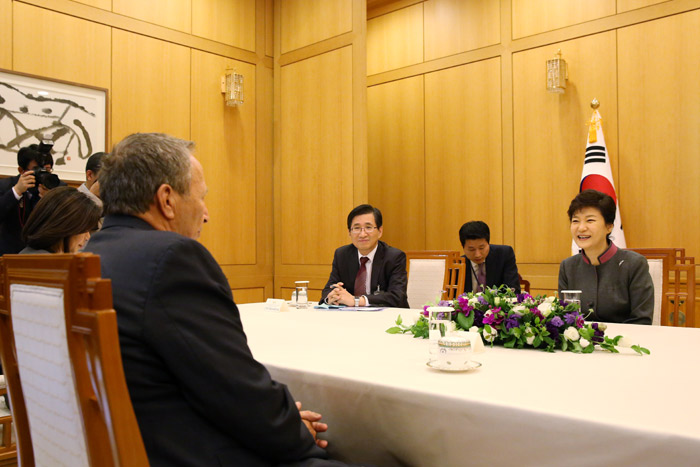 When asked about the world economic outlook, the U.S. economist said that the world should concentrate more on growth rather than financial soundness. In this regard, he said that America's quick action to reduce its financial deficits seemed to have put the country's economic growth at risk. Summers also added that there seems to be no need to push forward rapid changes in monetary policy, though changes will be necessary in the future.
By Yoon Sojung
Korea.net Staff Writer
arete@korea.kr
Department Global Communication and Contents Division, Contact Us