President pushes for creative energy sector
Oct 17, 2013
President Park Geun-hye said that her administration will nurture the energy industry through the fusion of information & communication technology (ICT) and the scientific method, in order to realize her vision of expanding the creative economy's resourcefulness and innovation into other sectors. President Park stated her creative industry vision during her keynote address at a special session of the 22nd World Energy Congress Daegu 2013, in Daegu on October 16.
"The energy industry is one of the perfect examples of the ways in which creative industries can shine. Korea will transform its energy industry so that it becomes a locomotive for the creative industries. We will then share our knowhow and experiences of developing a creative energy economy with the international community," said President Park.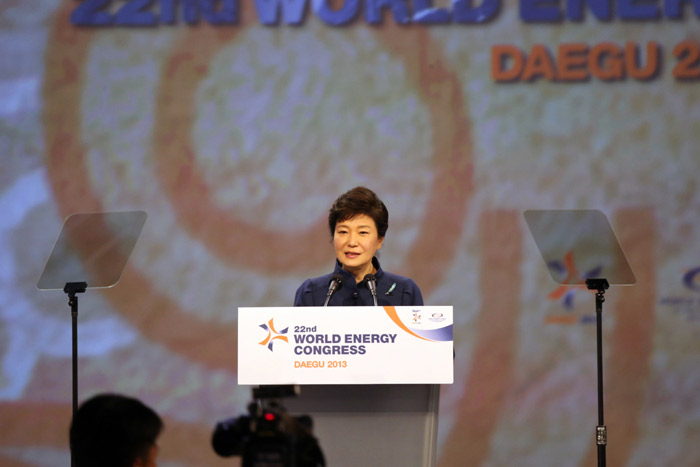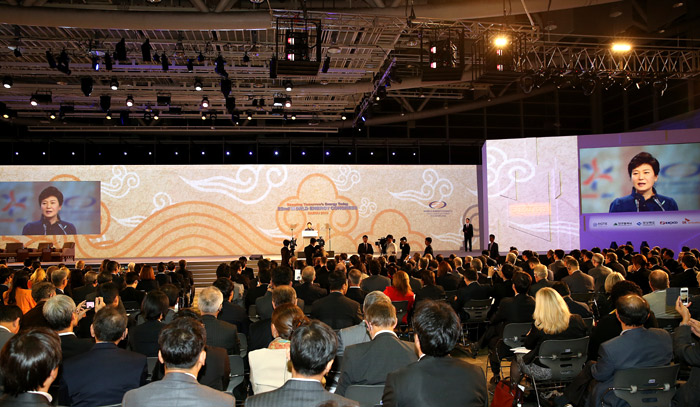 "In just half a century, Korea transformed itself from one of the most energy-poor countries into an advanced economy with a modernized energy supply-and-demand system and an advanced energy infrastructure. Korea will take the lead in solving the global 'energy trillemma' and we will contribute to the world energy market," said the president, proposing that creative industries could be a new paradigm for the energy industry.
President Park dubbed the three major energy-related challenges the world faces as the "energy trillemma": improving energy security, solving social inequality and reducing the environmental impact. She also emphasized that the world needs to create a new energy environment where a virtuous circle of new markets and more jobs can come into existence, encouraging a paradigm shift and the fusion of information technology and other industries.
To this goal, the president said that Korea will use its advanced ICT, such as energy storage systems and energy management systems, to reduce energy consumption and to build an energy market where stored electricity could be traded.
President Park said that not only a paradigm shift to a more creative energy economy is needed, but also a big shift needs to be made in global energy cooperation, in energy policy and in energy systems. This is in order to solve the "energy trillemma," she said.
"This will help lead energy-providing and energy-consuming governments, energy-related industries and civil society at large to actively engage in dialogue and cooperation so that there will be clean and safe energy available for all," said the president.
President Park explained Korea's will to actively participate in a world energy dialogue. Korea's willingness to cooperate has been shown with its hosting of a series of energy-related international forums recently, such as the Asian Ministerial Energy Roundtable and the World Energy Congress.
"Let us engage in action today for energy tomorrow," said the president. "I hope this congress will become a starting point to show the governments of energy providers and consumers, energy firms and global energy leaders how to take action today for a better tomorrow," said the president.
By Wi Tack-whan, Yoon Sojung
Korea.net Staff Writers
whan23@korea.kr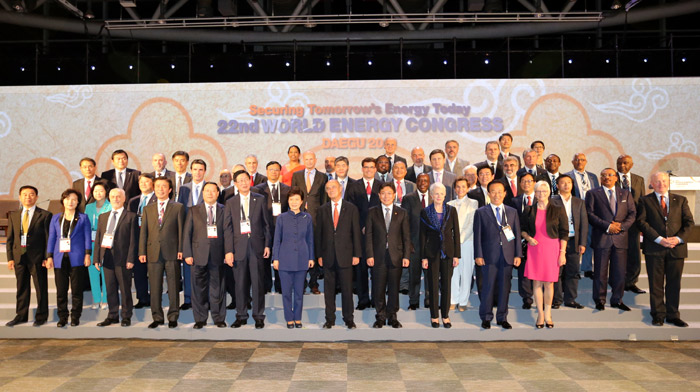 Department Global Communication and Contents Division, Contact Us