Korea, Philippines move toward deeper cooperation
Oct 18, 2013
President Park Geun-hye held summit talks with Filipino President Benigno S. Aquino III, currently on a state visit to Korea, at Cheong Wa Dae on October 17. They talked about ways to boost cooperation between Korea and the Philippines. The in-depth talks covered bilateral cooperation in politics, security, investment, trade, development, culture and human resource exchanges. The presidents also discussed ways to jointly deal with both global and regional issues involving the Korean Peninsula and East Asia. This is the first state visit by a foreign head of state to Korea since President Park's inauguration in February.
President Park expressed her hope that President Aquino's visit could help deepen bilateral ties, since the Philippines is one of the countries that participated in the Korean War (1950-1953) and the first Association of Southeast Asian Nations (ASEAN) country with which Korea established diplomatic relations. President Aquino thanked President Park for her warm hospitality and her country's preparation for his visit.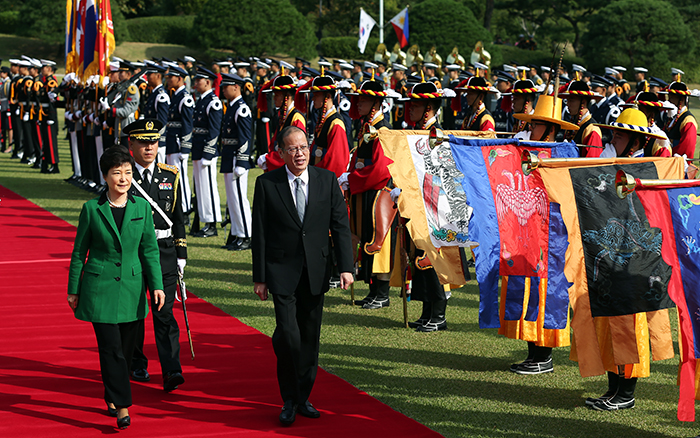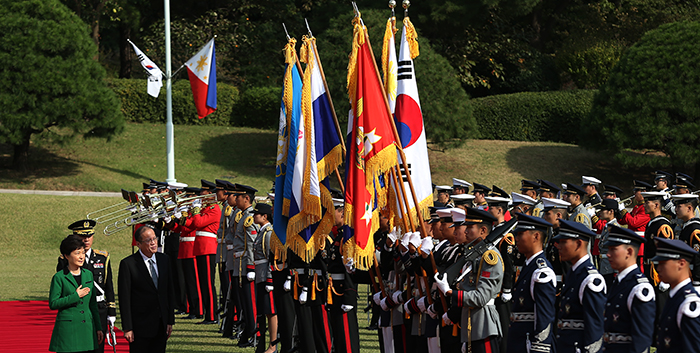 President Park expressed her deep sympathy and condolences for those who suffered from the severe earthquake that recently hit the island of Bohol, in south-central Philippines, causing a loss of many lives and property damage. Aquino thanked President Park for her words of sympathy and thanked the Korean nation for actively sending humanitarian assistance whenever his country experiences natural disasters, such as typhoons and volcanic eruptions. He also added that he considers Korea to be a proud ally of the Philippines.
President Park said she values President Aquino's leadership, since under his administration the Philippines has achieved sound economic growth and has joined Vietnam and Indonesia to form the "VIP" emerging economies. She expressed her hope that his leadership will help the ongoing negotiations taking place on the Filipino island of Mindanao go smoothly and that a permanent peace can take root in the region.
Cooperation expands to wide range of sectors
The two leaders welcomed the signing of a memorandum of understanding (MOU) on cooperation in the defense sector, signed between the two countries' defense ministries during President Aquino's state visit. They agreed to expand cooperation in that area in the future. President Park expressed her gratitude to the Filipino leader for selecting Korea's FA-50 aircraft for its air force and expected that the conclusion of the aircraft contract will lead to wider cooperation in the defense industry. President Aquino answered that he will take interest in and make an effort in this regard.
Both leaders said that bilateral cooperation and exchanges have made remarkable progress recently, as the volume of bilateral trade has more than doubled over the last ten years. They agreed that the upcoming, and first, Korea-Philippines Joint Committee for Economy and Trade will further deepen such cooperation.
President Aquino welcomed Korea's support for the Philippine Disaster Risk Reduction and Management Act on the Filipino island of Luzon and in Pampanga, a province in central Luzon, recently damaged by both volcanic eruption and flooding. President Park said Korea will actively provide development assistance in order to help the Philippines achieve sustainable growth. She also called for prompt activation of the basic agreement on free grant-type aid which was signed in 2011 so that development cooperation between the two countries can be implemented more effectively.
President Park expressed her gladness that the peoples of the two countries can become part of the same family as well as close neighbors, mentioning that the volume of people-to-people exchanges surpassed 1.3 million and that the number of Filipino spouses married to Koreans reached 15,000 last year. She asked the Filipino government's support in building an office in Cebu where the Korean government plans to open a consulate in 2014. President Aquino welcomed the Korean government's diplomatic expansion to Cebu and promised to cooperate. He asked President Park to take an interest in and support Filipinos residing in Korea and called for a renewal of the MOU on the Employment Permit System and an expansion of support for Filipino marriage migrants in Korea. President Park explained Korea's policy to support multicultural families and spoke about Korea's multicultural family support centers. The two leaders reaffirmed the need to extend protection for the peoples of the two countries during the talks.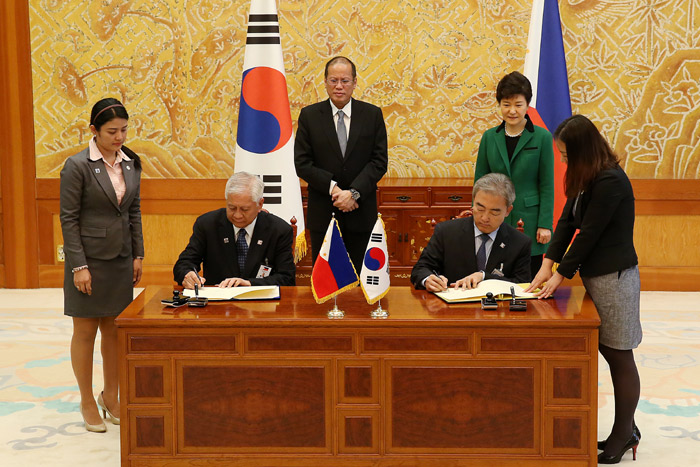 President Park thanked her Filipino counterpart for actively supporting her Korean Peninsula trust-building vision and her Northeast Asia peace initiative, both mentioned at the ASEAN-related summit meetings held in Brunei last week. She urged the Filipino leader to send a clear message to Pyongyang so that North Korea will give up its nuclear program and take the path toward true change and peace. President Aquino said that he will continue to support Seoul's stance and President Park's visions for the peninsula and Northeast Asia and added that he will do what he can to help bring peace and stability to the region.
The two leaders discussed regional cooperation in East Asia and joint responses to deal with regional and global issues. They both praised the outcome of the Korea-ASEAN Summit where participating leaders agreed to hold a special Korea-ASEAN summit in December 2014 in Korea, to establish a Korea-ASEAN Business Council and to launch a Korea-ASEAN security dialogue in 2014.
After the summit, ministers from the two governments signed MOUs on national defense and sports and signed the Economic Development Cooperation Fund agreement that will provide funds for the Philippine Disaster Risk Reduction and Management Act for the province of Pampanga.
By Wi Tack-whan, Yoon Sojung
Korea.net Staff Writers
whan23@korea.kr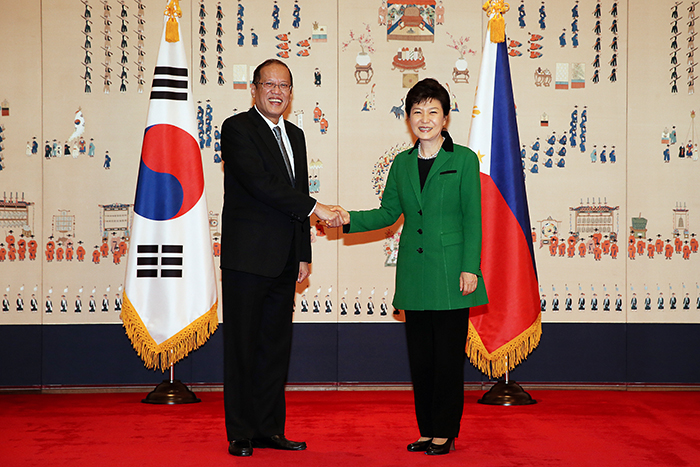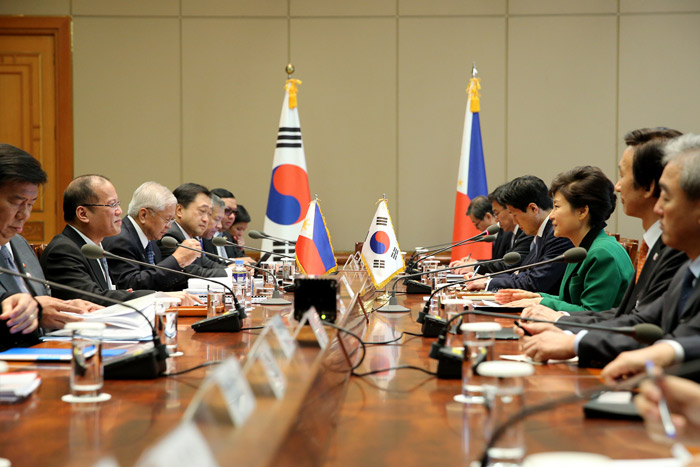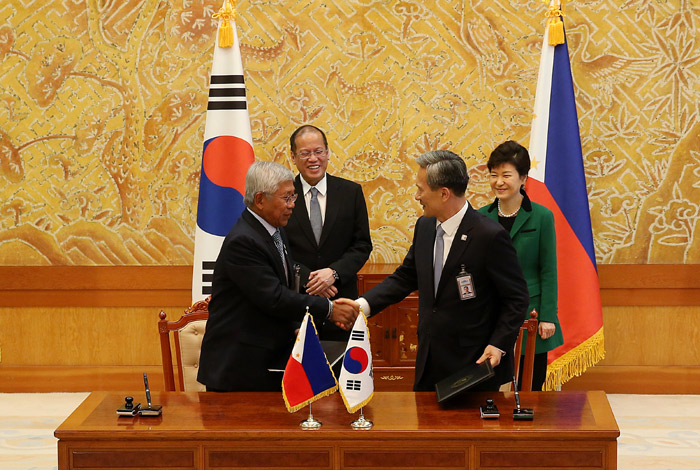 Department Global Communication and Contents Division, Contact Us