President, U.K. Secretary discuss creative economy, cooperation
Oct 21, 2013
President Park Geun-hye met with Foreign Secretary and First Secretary of State of the United Kingdom William Hague at Cheong Wa Dae on October 17 to discuss ways to boost cooperation between Korea and the U.K. ahead of her state visit to the country in early November.
Secretary Hague, who visited Korea for the Seoul Conference on Cyberspace 2013, said both the British government and Queen Elizabeth are looking forward to her visit to the country and are both taking special care so that the president can enjoy a rewarding trip. Hague also expressed his hope that President Park's visit will help expand bilateral cooperation between the two countries as this year marks the 130th anniversary of Korea-United Kingdom diplomatic relations and the 60th anniversary of the armistice of the Korean War (1950-1953).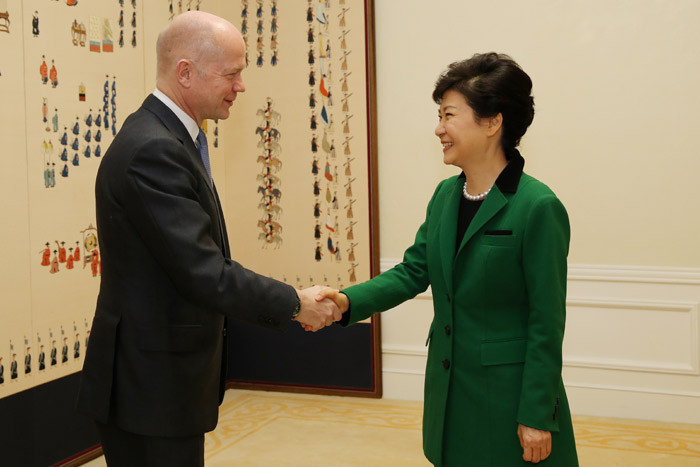 President Park expressed her deep appreciation to the United Kingdom for sending a large number of soldiers to fight in the Korean War, many of whom sacrificed their lives for the protection of peace. She also mentioned the series of events that will be held across the peninsula to mark the anniversary of the armistice.
The president expressed her hope that her upcoming state visit will serve as an opportunity to extend bilateral cooperation between the two countries, since the U.K. is one of the leading countries in terms of culture and creative industries, with a striving pop music and musical industry. She also added that Korea's cooperation with the United Kingdom in such creative industries would generate synergies. "As Britain has numerous Nobel Prize winners in physics and other scientific fields, Korea's cooperation with the U.K. in the creative economy will generate synergies when dealing with issues such as the jobless rate, aging and the environment," the president said.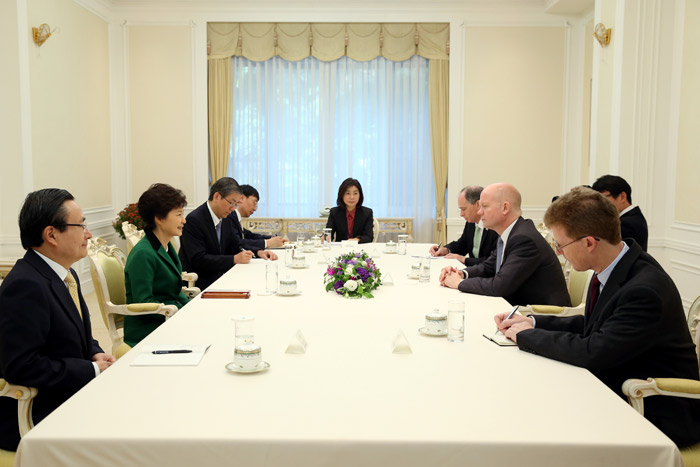 In response, Secretary Hague shared a common understanding of the need to extend bilateral cooperation in basic sciences and the creative economy. President Park reemphasized the need to set up international rules for cyber security, while mentioning the cyber terrorism attacks recently committed by North Korea, and she asked for the U.K.'s cooperation in this regard.
By Yoon Sojung
Korea.net Staff Writer
arete@korea.kr
Department Global Communication and Contents Division, Contact Us