President Park discusses cooperation with French leader
Nov 05, 2013
President Park Geun-hye held summit talks with French President François Hollande on November 4 at the Élysée Palace in Paris.
The two leaders agreed to bolster bilateral trade and investment through the smooth implementation of the Korea-EU free trade agreement (FTA), provide for new growth engines through cooperation in the creative economy and future-oriented new industries, and extend bilateral exchanges in culture and creative industries.
President Park secured France's support for the Korean government's Korean Peninsula trust-building process and its Northeast Asian peace initiative. The leaders discussed ways to comprehensively extend cooperation between Korea and France and to cooperate on global issues in order to substantially boost their mutually beneficial relationship.
President Park said that she is glad that France is her first destination in Europe for an official state visit. Mentioning the Korean government's administrative priorities-- developing the creative industries, cultural enrichment and building a foundation for peaceful unification-- she expressed her hope that Korea and France can deepen their friendship and partnership through her visit, as France is one of the best partners with whom Korea can extend cooperation.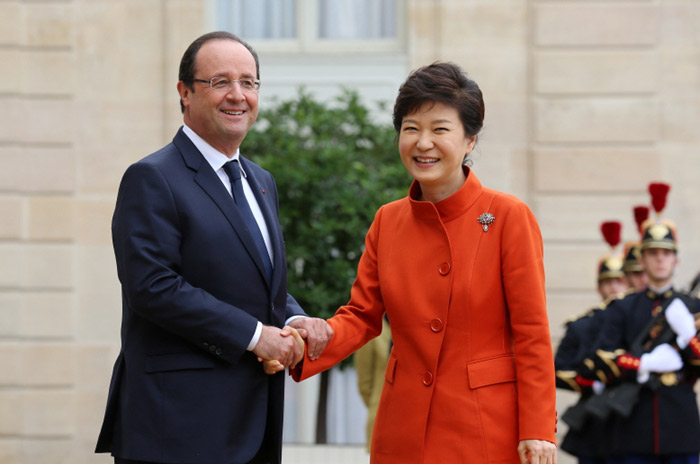 President Park expressed her thanks for France's participation in the Korean War (1950-1953), as this year marks the 60th anniversary of the armistice. She said South Korea owed its development today to such friends as France. She also mentioned her visit to the Tomb of the Unknown Soldier at the Arc de Triomphe where she laid a wreath earlier that day.
President Hollande said he sincerely welcomes President Park's visit, mentioning her special bond with the country. He expressed his hope that her visit can serve as a cornerstone to advance Korea-France relations.
Korea, France to strengthen economic cooperation
The two leaders agreed to enhance cooperation by boosting market accessibility for firms from both countries, expand the volume of bilateral trade and bolster trade and investment by improving the business and investment environment. To this aim, the two countries decided to issue a joint statement at the end of 2014 on simplifying visa procedures for businessmen and corporate interns. The two leaders also agreed to help firms of the two countries enter third markets by implementing a series of memoranda of understanding (MOU) involving Korean and French banks during President Park's visit.
Both leaders shared their common understanding of the importance of cooperation between small- and medium-sized enterprises (SME) in order to boost bilateral economic cooperation. In this regard, they mentioned the latest agreement by the two countries to conduct joint technology development projects in five areas: biomedicine; energy and the environment; robotics; automobiles and machinery; and, nano material technology and IT.
President Park praised France as an ideal cooperation partner for Korea, one which could help Korea improve its creative industries, as France is a world-leader in basic sciences and high-end technology. President Hollande responded that France learned from Korea's case when it implemented its own policy to support future-looking new industries, as Korea has a strong manufacturing sector.
The two presidents said that on-going bilateral cooperation on environmentally friendly cars, such as electric cars and hydrogen fuel cars, and in the medical and pharmaceutical sector are both exemplary cases of their substantial cooperation. They also expressed hope that such cooperation can be further extended in the future. Both leaders shared a common understanding on the need to strengthen cooperation in the nuclear power sector in particular, such as on the management of nuclear waste, and agreed to begin negotiations for joint cooperation projects between the two governments within the year.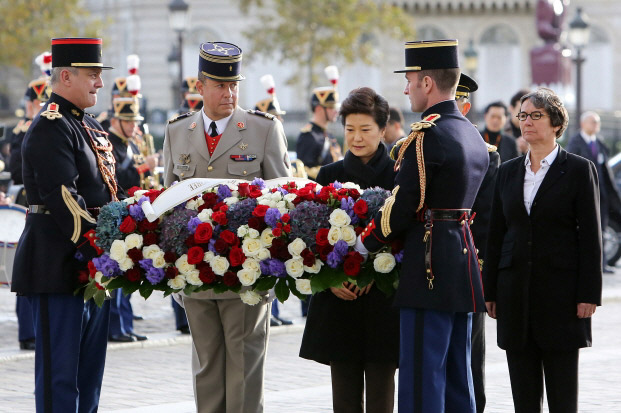 Korea, France to boost cooperation in culture, arts, creative industries
Given each country's deep history, culture, artistic traditions and pop culture, both leaders agreed to strengthen cooperation in the creative culture industries through the joint creation of cultural content and programs. In order to help the people of both countries boost mutual understanding and friendship, the two leaders further agreed to closely cooperate to successfully host the series of "Year of Korea-France Bilateral Exchanges" (unofficial translation) events set to take place in 2015 and 2016 to mark the 130th anniversary of establishing diplomatic ties.
President Park said that she hopes to extend cooperation in the animation sector and expand cultural exchanges between Korea and France. She called for France's cooperation in removing obstacles which could hinder exchanges and cooperation among people in the culture and arts arenas. She also asked for the active cooperation of the French government in regard to the opening of a Korea House at the Cité Internationale Universitaire de Paris, which accommodates students, researchers, artists and other visitors from around the world.
Paris supports Korean Peninsula trust-building process, Northeast Asian peace vision
President Park highly valued France's consistent support for and contribution to peace and stability on the Korean Peninsula. She urged the French leader to keep playing a constructive role to encourage Pyongyang to give up all of its nuclear weapons and programs and to come forward and make the right choice toward true change.
President Hollande expressed his complete support for Seoul's North Korean policy and his will to participate in the international community's efforts to resolve the North Korean nuclear issue in order to achieve denuclearization and to improve human rights. He expressed his support for President Park's policies, saying that the Korean Peninsula trust-building process and the Northeast Asian peace vision have greatly contributed to peace and stability on the Korean Peninsula and in Northeast Asia.
President Park praised France's leading role in helping to stabilize Syria and Mali. Her French counterpart highly valued Korea's contribution to peace and reconstruction in Africa and the Middle East, both financially and in terms of humanitarian aid.
President Hollande expressed his hope that the two countries could boost cooperation in many areas. Both leaders agreed to closely cooperate in responding to global issues such as climate change, cyber security, the breaching of non-proliferation treaties, terrorism, piracy and development cooperation, all to achieve sustainable, balanced growth in the world economy.
The French leader asked President Park to make a state visit to France in 2015 to mark the Korea-France bilateral exchange programs. President Park thanked him for the invitation and asked her French counterpart to visit Korea in 2014, which President Hollande welcomed.
By Wi Tack-whan, Yoon Sojung
Korea.net Staff Writers
whan23@korea.kr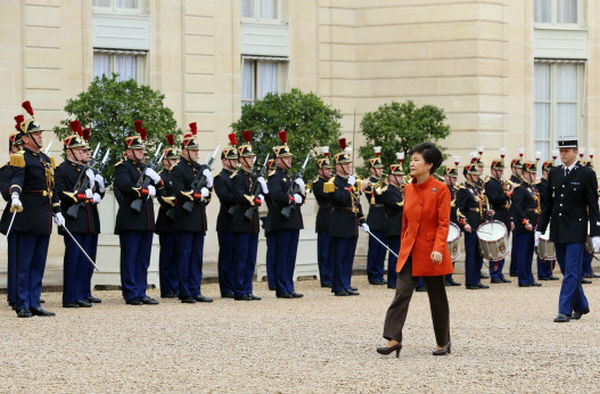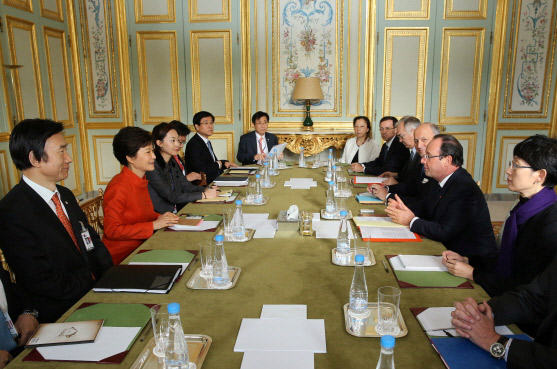 Department Global Communication and Contents Division, Contact Us