President Park checks out Renault's electric car
Nov 05, 2013
President Park Geun-hye
visited Renault's Z.E. Centre in Boulogne-Billancourt on the outskirts of Paris on November 4 during her official trip to France. President Park examined the
LG Chem
batteries installed in Renault's electric cars and inspected the company's small electric vehicle (EV), the two-seater Twizy.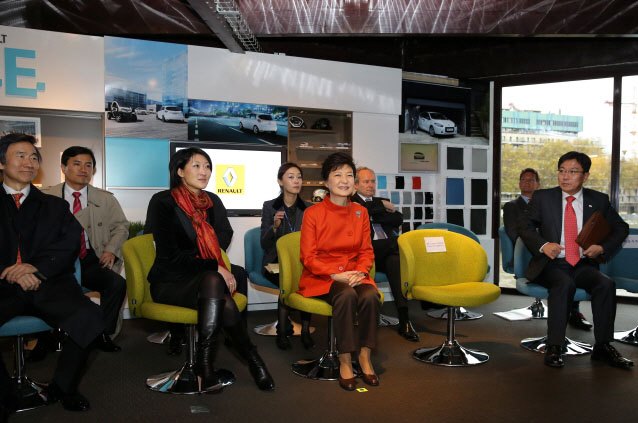 With President Park present, LG Chem and Renault, one of the leading manufacturers of EVs, agreed to sign a joint innovation contract in the near future to co-develop Renault's next generation EV by tapping LG Chem's battery cell technology.
LG Chem is the world's leading manufacturer of EV batteries for mid-sized and large automobiles and is supplying the batteries that power Renault's three lines of EVs, the Twizy, the Zoe and the Fluence. This partnership has been successful in Korea, France and around the world.
President Park delivered words of encouragement as she listened to French Deputy Minister Fleur Pellerin, in charge of small- and medium-sized enterprises, innovation and the digital economy, and to Renault Chairman and CEO Carlos Ghosn as they spoke about the future development of EVs and the automobile market in general.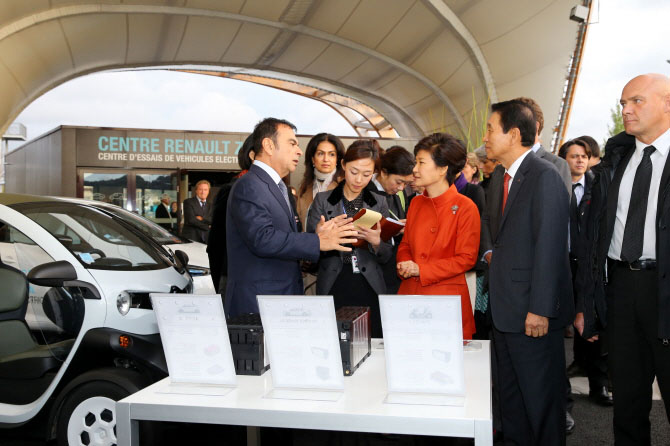 President Park emphasized the importance of electric vehicles as a way to solve global warming and as a response to insufficient energy resources. She said she hoped that Renault and LG Chem could cooperate with each other to co-develop the next generation of EVs and point the way to the future for an environmentally-friendly auto business.
Speaking of the two companies' partnership, President Park also said that if the two countries can cooperate and build on each other's strengths in other areas, they could find ways that are mutually beneficial to achieve success in third countries.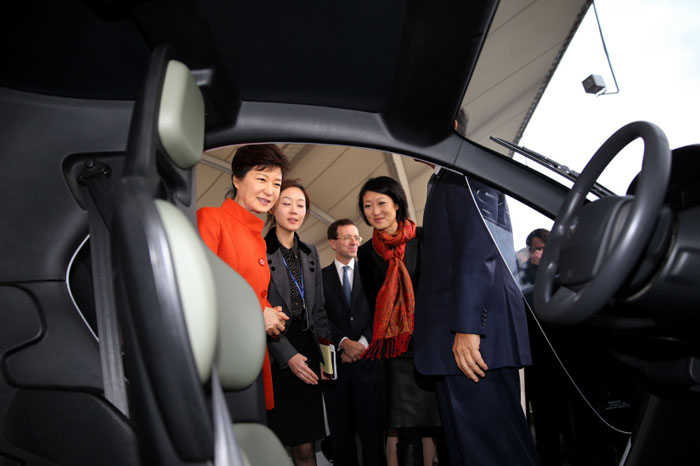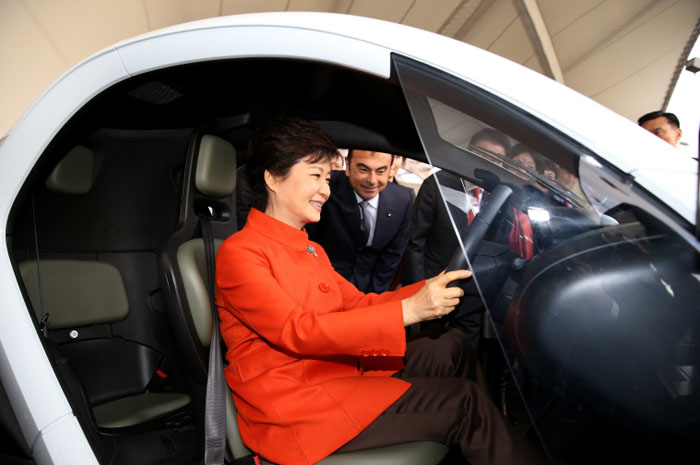 By Wi Tack-whan, Limb Jae-un
Korea.net Staff Writers
whan23@korea.kr
Department Global Communication and Contents Division, Contact Us