President Park attends royal banquet
Nov 06, 2013
President Park Geun-hye attended a state banquet hosted by Queen Elizabeth II at Buckingham Palace in London on November 5. The banquet was attended by over 140 people, including the Earl of Wessex Prince Edward and his spouse, Princess Anne and her spouse, the Duke of Gloucester Prince Richard, other members of the royal family, business leaders and influential figures across many sectors of the United Kingdom and high-ranking Korean government officials who were accompanying the president on her state visit to the U.K.
In her speech, the queen welcomed President Park's state visit to the country as this year marks the 130th anniversary of the Korea-U.K. diplomatic relationship. She said she is glad that the two countries share a true partnership. She also added that both countries cooperate together based on the bonds built by British soldiers who participated in the Korean War (1950-1953).
Mentioning the traditions of innovation and creativity as the United Kingdom's strengths and technological expertise and diligence as Korea's assets, the queen said both countries have been creating common profit by combining the strengths of each country. She expressed satisfaction in the close cooperation and exchanges in education, scientific research, tourism and culture between the two countries. The queen added that such cooperation plays a key role in developing the strategic partnership between the two nations.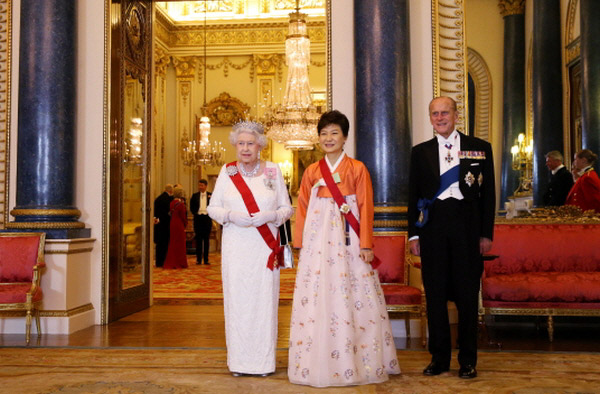 In her reciprocal speech, President Park expressed her thanks to the queen for inviting her to make a state visit to Britain and said her visit holds significance since this year marks the 130th anniversary of the establishment of Korea-U.K. diplomatic relations and the 60th anniversary of the armistice of the Korean War. The president highly valued the pivotal role of the British royal family which has shown its great responsibility for the country. The president said the U.K. is one of Korea's true allies, as the country dispatched 56,000 soldiers to protect the freedom of Korea 60 years ago and became the first country to send a group of investors to Korea 15 years ago in the midst of the Asian financial crisis. This support has contributed greatly to Korea's transformation into the world's eighth largest trading economy with a dynamic democracy, said the president.
President Park emphasized that bilateral cooperation should be extended based on the trust and friendship of both countries. She also expressed her hope that Korea's creative economy policy and the UK's experience in leading many creative industries with its tradition and long history can be combined to create new engines of growth. Quoting William Shakespeare, "It is not in the stars to hold our destiny but in ourselves," the president expressed her hope that the two countries could have a more prosperous, happier future by combining their creative talents and experience based on the 130-year-long friendship and trust of both nations.
By Wi Tack-whan, Yoon Sojung
Korea.net Staff Writers
whan23@korea.kr
Featured Topics
http://www.korea.net/NewsFocus/Policies/view?articleId=114709
URL Copy
Department Global Communication and Contents Division, Contact Us