President stresses creative economy cooperation
Nov 08, 2013
President Park Geun-hye emphasized Korea-UK cooperation in creative industries at two economic forums in London on November 6 during her state visit to Britain.
At the Korea-UK Global CEO Forum and the Joint Economic and Trade Committee, President Park gave the keynote address in English and praised the progress made in Korea-UK economic cooperation through the 130-year-old diplomatic relationship.
"It is time for us to take our partnership to the next level," said the president, emphasizing that the creative economy is, the "new engine that will power the next stage of our economic cooperation." She also said the two countries should broaden the scope of their bilateral cooperation in creative industries and in new future-oriented industries, and use the Korea-EU free trade agreement (FTA), which took effect in 2011, to work together to jointly penetrate third markets.
"The creative economy. This is where we might find the answer to lifting the global economy out of its current doldrums," said the president. She proposed that Britain and Korea collaborate in various areas, including cultural content, new digital industries and bio-industries, to realize the creative economy and to build "a new globally competitive model for growth."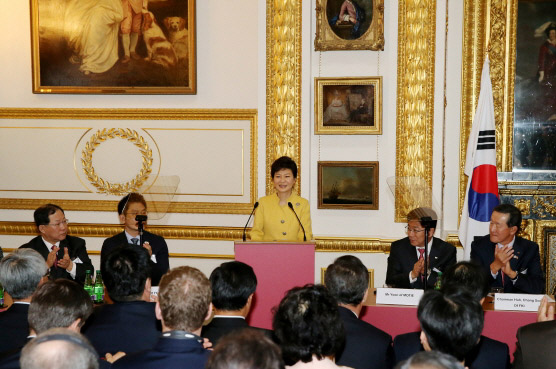 "We could further expand our economic horizons if we combine our strengths and enter third country markets together," said the president, mentioning as an exemplary case the ongoing partnership in offshore engineering where Britain's engineering and Korea's shipbuilding skills collaborate to compete in the global market.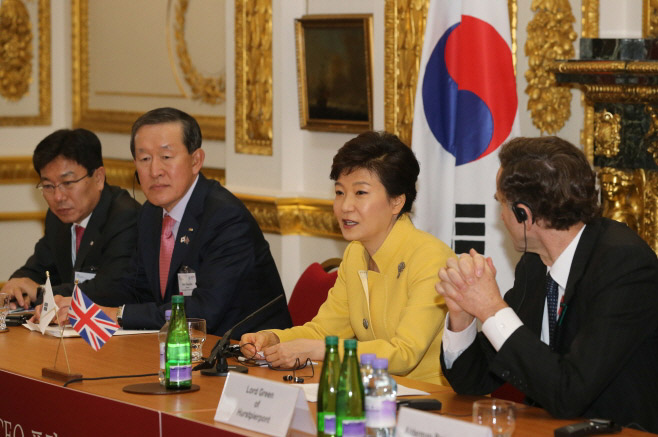 Pointing out that climate change, energy depletion and an aging society are "the challenges we face today," President Park stressed the need to "transform challenges into opportunities, opportunities that unleash new technologies and new industries. "In the same vein, the challenges of climate change, energy and an aging society bode well for low carbon energy, the healthcare businesses and for the so-called silver industries," said the president.
Later that day, President Park attended an opening ceremony for the Korea-UK Creative Economy and Future Science Forum at Imperial College London. At the forum, she introduced Korea's creative economy administrative priority and stressed the need for Korea and Britain to extend cooperation.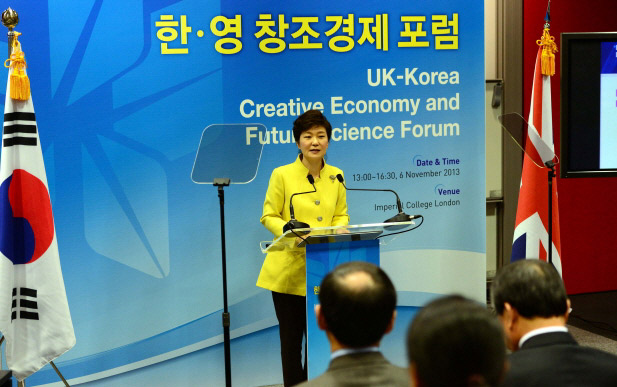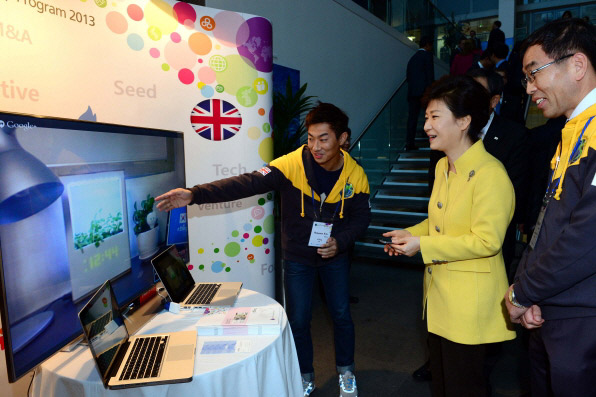 The president said that the creative economy is "an economy that harnesses the creative ideas of individuals, promotes convergence between different industries, between industry and culture, and creates new markets and new jobs. As early as the mid-1990s, the UK began to nurture cultural and media sectors into creative industries." The president expressed her hope that this forum would serve as an opportunity for the two countries to actively cooperate in the creative economy.
Forum participants discussed ways to conduct joint research projects into future innovative technologies such as data-based creative industries and create new digital and cultural content.
By Yoon Sojung
Korea.net Staff Writer
arete@korea.kr
Department Global Communication and Contents Division, Contact Us