President Park meets scientists, business leaders in Belgium
Nov 08, 2013
President Park Geun-hye
met with scientists and venture business entrepreneurs in Brussels, Belgium, on November 7.
The meeting was organized to hear the views of local experts on the potential to develop the creative industries through the use of basic sciences and technological innovation. A total of 15 participants attended the meeting, including
President Helga Nowotny
of the European Research Council (ERC), Professor Richard Timothy Hunt of Cambridge University who won the 2011 Nobel Prize in physiology or medicine,
CEO Wim De Waele
of iMinds, a company that specializes in interdisciplinary research and software development, and Professor Joo Cheol-min from the Delft University of Technology in the Netherlands.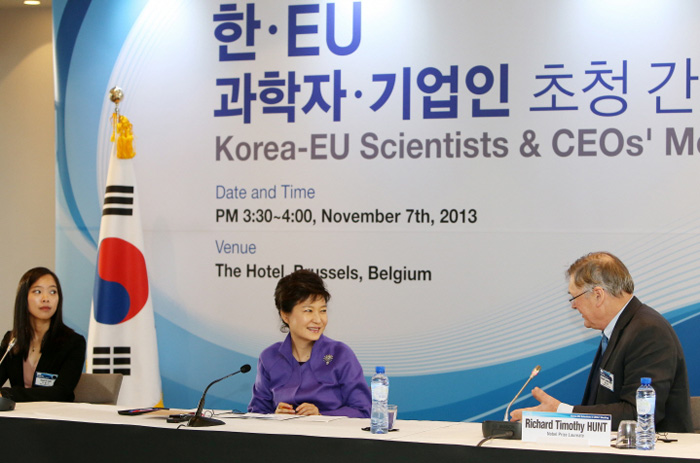 At the meeting, President Park gave her definition of the creative economy. She said it is Korea's vision to create new markets and jobs by integrating different industries and different cultures. This vision can be achieved by combining scientific technologies and
information and communications technology
(ICT), she said.
The president predicts a blossoming of scientific and technological exchanges between Korea and European nations, all to benefit the creative industries. She explained that the two sides have a lot to share. Europe is advanced in basic sciences and has world-class capabilities in that sector while Korea has been successful in ICT and the commercialization of technologies.
During the meeting, participants shared their experiences in and information about the research environment, the support system for researchers and support programs for business start-ups in Europe. They shared their views on new industries that could possibly be created on the basis of scientific technologies and technological innovation.
Nowotny of the ERC shared with participants some of her institute's research results. Based solely on their scientific merits, research conducted at the ERC has led to eight Nobel Prizes and three Fields Medals, a mathematics award. Nowotny stressed the need to integrate scientific technologies, the humanities and social sciences to create the most widespread utilization of research results.
De Waele of iMinds agreed. Creativity is more important than technology, he said, since the value-added industries have recently been shifting their focus from hardware to software and content.
Marking President Park's visit to Brussels, a new Korea-EU Research & Innovation Center was launched on November 8. It will help Korean and European experts cooperate in sharing R&D and in building networks. It will also support small- and medium-sized Korean firms and venture businesses as they enter EU markets.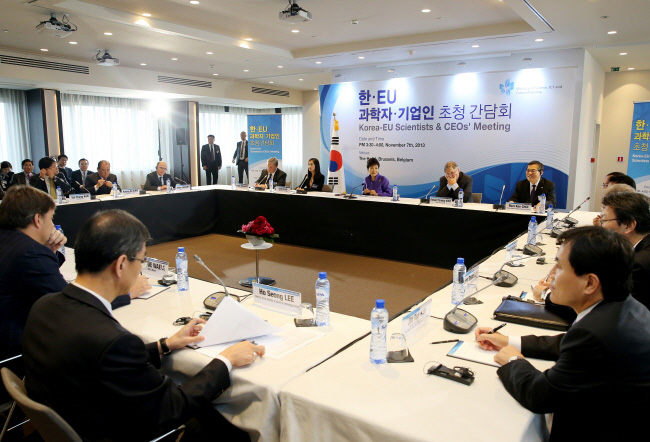 By Wi Tack-whan, Lee Seung-ah
Korea.net Staff Writers
whan23@korea.kr
Department Global Communication and Contents Division, Contact Us